Another month goes by which means another month to round up the best articles on PPC.org to help advertisers and publishers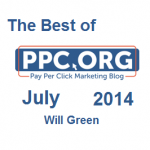 out with Google's pay per click advertising programs: AdWords and AdSense. Last month, June, saw a great selection of articles from a range of different sectors of PPC (which I strongly advise you read a few of them at least)! So here are the best articles I created from July 2014 that are for you to read on PPC.org – a pay per click marketing blog.
July was an exciting month for Adsense since Google released new and larger ad sizes for publishers to use being the 970×250 and 300×1050 adverts. These adverts are great since they can display adverts from previous sizes and new improved adverts too. However, I was unsure about them so decided to use them on my website for a week and see how they performed to my previous advertising sizes. The results are in this article: Adsense 970×250 and 300×1050 Advert Review.
The Range Of Extensions in PPC Part 1 and Part 2
Text adverts are a fundamental aspect to pay per click advertising. Over the years, they have been innovated on to improve them to make them perform better for advertisers. One of these innovations had been ad extensions, which are small extensions which are put on the end of a search advert to help promote a click and a conversion. In this two part article is an explanation of every ad extension you can use in AdWords.
What Ad Extensions Should You Use In PPC?
After reading about all of the ad extensions you can use in PPC, it is time to know what ad extensions you should use for your campaign. This article explains what ad extensions you should use to help make your advert perform to its optimum.
Analyse A Real PPC Campaign Series
Like with most months, there are some great articles from the 'Analyse A Real PPC Campaign' series which are listed below rom July 2014:
Blurb – A book publishing company that had a very effective landing page.
Thomas Cook – A holiday company that had a well designed search advert and landing page which encouraged web users to purchase a summer holiday.
BookF1 – A website to book Formula One tickets, the search advert was optimised but the landing page had areas that could have been improved.
Remember that it is always a great idea to read articles from the 'Analyse A Real PPC Campaign' series because it will show you the areas real life campaigns are going right and wrong so you can learn from these company's mistakes and advertising strong points.
What Makes A Successful PPC Advert?
It's always good to have a article  that is to the point – this is exactly what this article is. In this read, I highlight three things which makes a successful PPC advert so you can take these points and use them yourself in your campaign.
There's the top nine articles I believe I created in July 2014 that will benefit you the most. I hope this has proved useful to you like it has for so many other people.