Another month has been and gone which means another round up of all the best PPC articles out there. Last month, January had a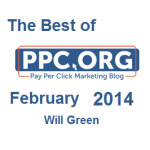 great selection of articles to read which if you haven't read them do read them! February brought a wide range of articles which is great since it looks at many different areas of PPC. Sometimes, going too specialised into one area is not the solution of a campaign's problem. A general overlook is needed to the campaign and that is exactly what these articles are: an overlook of different areas of PPC.
Pros and Cons of PPC Advertising
Although this article probably won't improve your campaign, it will give you an idea of why PPC is the most used form of online advertising out there. You should read this article as a check-list and a prevention tool. By this, you should be checking you are taking advantage of all the pros while trying to avoid the cons.
[How to] Optimise Google Adsense Adverts
An article for the publishers of PPC out there, read this and you will look at three ways to improve the adverts that you place, from Google Adsense, onto your own website. These tips are great because they are universal and are extremely simple and effective.
The landing page is a vital element to a PPC campaign's performance. For this reason, here are two tips you need to consider when creating and optimising your landing page. Both, like with the tips on optimising Google Adsense adverts, are universal for campaigns so everyone can take advantage of this article as an advertiser with a campaign running.
Optimising Domain names in PPC Text Adverts
I get the impressions that advertisers, when ranking how important each element of the typical PPC text advert is, don't rank the domain name that highly. This is wrong. The domain name, just like the title and description, is a crucial element to the text advert which, if done right, can seriously improve the CTR of your advert. For this reason, here are two in depth ways to optimise  a domain name in PPC.
There's the top four best articles I believe I created in February 2014 that will benefit you the most. I hope this has proved useful to you like it has for so many other people.