Another month goes by which means another round up of the best pay per click advertising articles out there on PPC.org. Last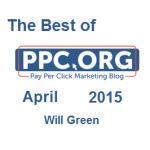 month, March, looked into a great selection of articles such as the types of people that will use PPC: the browsers, the shoppers and the buyers (any web uservcan be put into one of these three categories).For April, we have a wide selection of articles to offer to read and many articles from the 'Analyse A Real PPC Campaign' series so you can learn the tips, tricks and techniques the biggest and smallest companies use with their own PPC campaigns.
How to Satisfy Web Users in PPC
Before anything, if you want to make a success of using PPC, you need to understand the fundamentals behind your targeted traffic. In this article, I highlight the three fundamentals to satisfying a web user in PPC not matter what you are trying to advertise or promote.
6 Ways To Reduce Your PPC Landing Page's Bounce Rate
I strongly dislike the bounce rate. It is a statistic that, if high, can have such huge consequences to the success of your landing page. In essence, a high bounce rate means web users are not interested enough to engage further with your landing page and are simply clicking or 'bouncing' away. Here are six ways you can try to minimise your PPC landing page's bounce rate.
Analyse A Real PPC Campaign Series
As always, there is a great selection of articles from the 'Analyse A Real PPC Campaign' series, where I analyse a PPC campaign that is up and running by a company:
Update: Google Mobile Favours Mobile Websites

It is important to keep up with all the news around Google and PPC. The most up to date news is that Google have announced that websites that do not have mobile friendly versions of their desktop website will be punished in Google's mobile organic search results. For those without a mobile version of their website, this could mean a huge fall in traffic.
There's the top six articles I believe I created in April 2015 that will benefit you the most. I hope this has proved useful to you like it has for so many other people.