April 2014 on PPC.org had some great articles and a new series for new advertisers mainly to take full advantage on entitled, 'A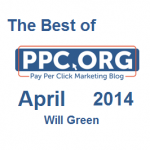 Complete Explanation Of PPC'. With these articles, I am not saying that you should read all of them – that will take quite a long time. Instead, find one to two articles which look at specific areas of PPC you are unsure or not totally happy about with your campaign. From reading the articles, you should be able to identify any mistakes in your campaign to make it a more effective PPC campaign at gaining relevant traffic to a well optimised landing page. Here are the best articles from April 2014.
Applying The Boston Matrix To PPC
From studying Business Studies, I have found it extremely easy to see similarities between PPC and business concepts and ideas. One of these ideas I have applied to PPC is the Boston matrix which is a table to determine where about a product/service is in its market. From knowing where about your product or service is in the Boston matrix will help you shape a PPC campaign for your product/service's specific needs.
3 Different and Effective PPC Strategies
For new advertisers, it is very difficult to create a campaign since with PPC, because it can mould to an advertiser's objectives, there are many different approaches an advertiser can take. For this reason, I highlight three different and effective PPC strategies advertisers can take to PPC if they are unsure how to approach PPC.
A Complete Explanation Of PPC
In April, I started off a new series which looked into a complete explanation of every element in PPC. The series is still on-going since I have not covered every element. However, here are the elements I have covered in April:
Image Adverts – Most advertisers stick to text adverts with PPC. However, the flexibility of sizes and high CTR image adverts generally have should attract advertisers to using them.
Text Adverts – Here is a complete explanation of text adverts, how they are structured in PPC and the add ons you can introduce to them such as Google+1 and reviews.
Landing Pages  – In this article, I explain just exactly what a landing page is in PPC and how to optimise it to produce the highest conversion rate.
Keywords – The keywords you choose will affect the type of traffic that will see your advert as well as how expensive the CPC will be for that traffic.
CTR – The click through rate is an important element to PPC since it tells you how relevant your traffic is and how good your advert is at gaining clicks.
CPC –  In this article, I go through the different definitions of CPC mean such as maximum CPC, actual CPC and manual/automatic bidding.
There's the top eight articles I believe I created in April 2014 that will benefit you the most. I hope this has proved useful to you like it has for so many other people.