The last article in the 'Analyse A Real PPC Campaign' series looked at ASOS who are a thriving business taking a cheap and ease of use approach to selling designer clothing online. The next article in this series is going to look at the one of the giants in social networking: Twitter. Twitter has become one of the best ways to follow friends, celebrities: for that matter just about anyone. It's simplicity gives it a unique selling point over Facebook such as it's 150 character limit for tweets. Let's see how Twitter uses PPC to help them advertise their products…
To view Twitter's PPC text advert, I had to type into Google search UK, 'twitter advertising':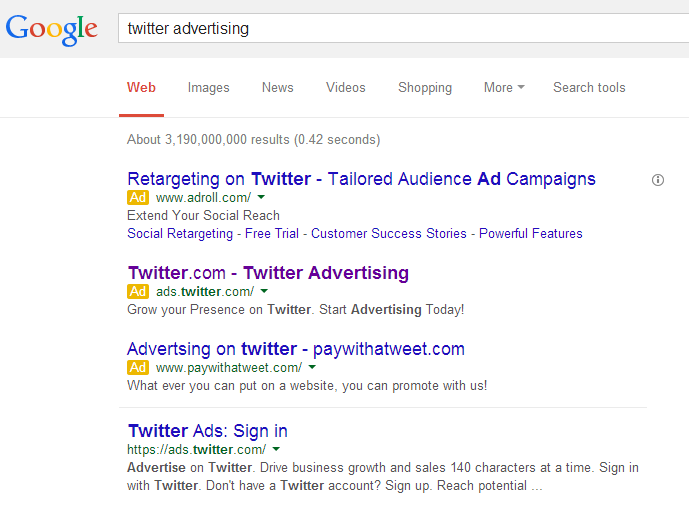 The first thing that is made apparent is the reason why Twitter has made a campaign for their own search phrase already:
Near enough the whole of the first page of organic results all link to different web pages of Twitter about their advertising.
However, there are competitors who have created PPC campaigns for 'twitter advertising'.
If Twitter did not create a PPC campaign for 'twitter advertising' the competitors would be stealing traffic away from Twitter.
This makes it clear that Twitter have had to reluctantly create a PPC campaign for 'twitter advertising' in response to its competitors. It is not an ideal situation but necessary to maintain their traffic for such a crucial search phrase.
Looking at the advert itself, Twitter have decided to keep it very clean and simple which helps to portray the USP of Twitter (keeping things simple). What is a good is that they have included the search phrase in both the title and description of the text advert making the advert look more relevance to the search phrase. Compare this to the other two adverts, Twitter will be getting more clicks on their advert because of the higher search phrase density.
As well as this, Twitter have included two short and simple call to actions in the description and as we all know, call to actions are essential to an advert to gain a respectable click through rate.
After clicking on the above advert, I came to the following landing page:
It is clear that this is a lead capture page as Twitter is gaining information from the web user. The problem with most lead capture pages is that they request a lot of information from the web user which, to the web user, will encourage them to click away from the page since there is no real incentive to give so much information away without getting something in return.
Although there is an incentive for people to fill in information on Twitter's landing page, is can be quite daunting for them if Twitter put all the information they needed to fill in on just this page. Instead, they have been clever and spread the lead captures over a few pages, making the task of filling in information seem less than it actually is.