If you happen to run an adwords campaign, you are already aware of the fact that the success and failure of the campaign hangs by a thread and often times, the very thread is controlled by a mysterious element code named as Quality Score. Okay, let me explain it. You can find tons of articles on how to increase quality score of your adwords ads but nobody knows for sure how to do it correctly otherwise we would not have clicked on so many half-baked ad copies and landing pages that definitely do not contribute to the conversion rate.
Some of the contributing factors to higher Quality Score are relevant ad copies, right keywords combination, smaller ad groups and of course a standard landing page that helps in the path of conversion. Since the Quality Score is determined at the keywords level, it is imperative for Adwords experts to ensure that the landing page meets all the guidelines if they really want to secure higher Quality Score.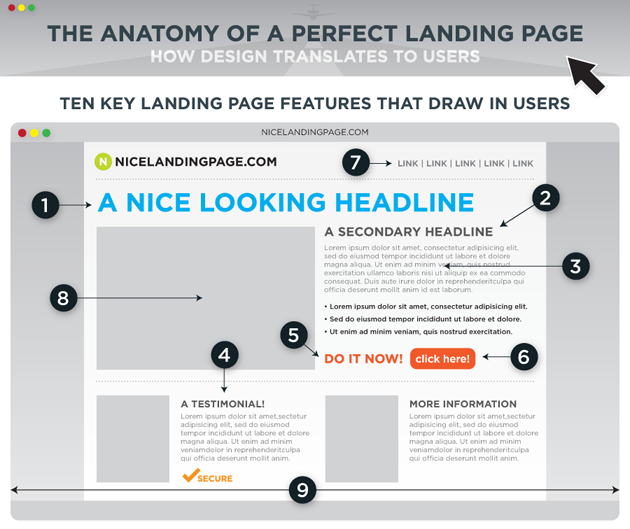 However, if you have no idea where to start or how to make your landing page appear more relevant as to get higher quality score, you would not have to worry at all as we are going to give a roundup of some of the most crucial aspects of a relevant landing page –
Multiple Landing Pages
Most adwords experts are of the opinion that we should be testing multiple versions of a landing page. Sticking with a single landing page is never a good idea rather we should create multiple versions and make some subtle changes in them and the run them all to find out which version is converting more visitors. Unless and until you are testing multiple versions of a landing page, you will never be able to see marked improvements when it comes to Quality Score.
Proper Header tags
Since people rarely spend more than 5 seconds on a web page to decide whether the web page meets the requirements or not. Therefore, it makes perfect sense that you should be using header tags properly as to reassure the visitors that they have landed on the right page. Marketers needs to combine keywords [that they have used on the ad copy] and cool phrases to create something creative for the H1 and other similar tags. Use of keywords in the header tags will make it easier for the search engines and the visitors to identify the relation between the search phrases and the landing pages. Everyday Promo Code did an excellent job when it was running an adwords campaign by coming up with creative and keywords rich header tags for its website.
Page Speed
How people are going to react if they land on a web page that takes literally years to get loaded? Of course, they will leave the website and start checking out other websites. So, before you even make your adwords ads go live, you need to make sure that your website is loading fast, very first. There are some simple ways you can make dramatic improvements as far as the loading speed of your website is concerned. You can make remove redundant codes, reduce the image size, enable compression, reduce server response time, minify both HTML and CSS and more. Littlewoods.com has done an incredible job by reducing the loading time of its website and the outcome is definitely impressive by any standard.
Meta Data
Your Meta data should be in line with your ad copy. For Example if the ad copy is about web development service, you should not choose a landing page whose Meta data focuses on Content Writing services. In an ideal world, the Meta date of the page should matches with the keywords that are used in the ad copy. Meta data of perfectly matches with the ad copy and this is what has helped it
Body Content
You need to spend some time on the body copy of your landing page. It is a standard practice to use keywords in then body copy but that does not mean that you will make it look like spam. Use related keywords and blend them naturally with the body copy.
So, these are some steps that you need to remain aware of when you want to increase the quality score of your keywords in the adwords campaign.