The last PPC campaign I analysed in the 'Analyse A Real PPC Campaign' series was from Joanna Lumley Live, who had a very basic PPC search advert and a landing page with an unnecessary use of a pop-up. For this reason, it can be considered a PPC campaign with lots of areas of improvements.
With Christmas just around the corner, there will be some people that leave buying gifts for others to the last minute – for a lot of companies, this is one of, if not the, most profitable time of the year. For this reason, here is an analysis of a PPC campaign of such a company targeting this target market: Truly Experiences.
To view Truly Experiences' PPC search advert, I had to type into Google search UK, 'last minute christmas gifts':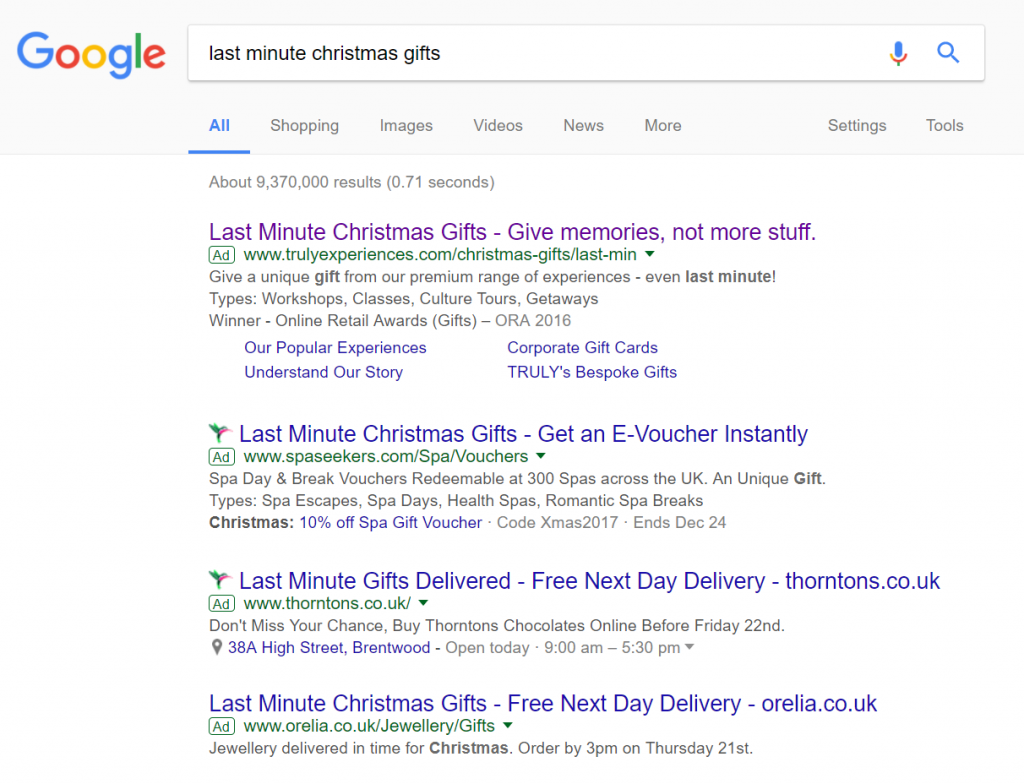 The maximum of four adverts appears, which is no surprise, considering the conversion rate of such a search phrase is likely to be very high. As for Truly Experiences, they rank first suggesting that the CPC they have adopted is high to the average competition. For such a crucial type of traffic with a high conversion rate, this is a good technique since the traffic that Truly Experiences can get in this small time frame to Christmas is quite small, compared to the rest of the year. Therefore, it is better to spend a little more to gain more traffic than save on budget and gain less traffic from not ranking first.
Looking at the advert itself, it copies the search phrase word for word at the start, which makes the advert seem extremely contextual and clickable. The use of two ad extensions expands the advert, helping to increase the CTR and engagement rate of the advert. On top of this, there are a few call to actions located in title and description, to push web users into clicking onto the advert. Overall, this is a very good search advert.
After clicking on the above advert, I came to the following landing page:
The first thing I notice from this landing page is the red background to the images below the navigation menu. What Truly Experiences have done is clever, in the sense that they have not adopted a Christmas theme but complimented their current theme with hints of Christmas throughout – this provides the sense of the holiday season on such a landing page. Hints of Christmas on this page include:
As already mentioned, the images with a red background, below the navigation menu.
The stocking on the logo.
Christmas content " 'Tis the season to create new memories'.
The use of images as as the links on this click through landing page will, no doubt, make the CTR of this page very high. This is helped by the fact that the landing page takes into consideration every type of person: men, women and couples. On the whole, this is a very effective landing page that will help push web users to a conversion with Truly Experiences.