The last article in the 'Analyse A Real PPC Campaign' series had a look at Hello Fresh who had a generally well designed pay per click advertising campaign that many advertisers can take points from to add to their own campaign to increase the performance of it. In this article, it is interesting to say the least about the campaign I am going to analyse. Therefore, let's get straight into it.
The company I wanted to analyse was Triumph Motorcyles. So, to see if they made a campaign for their own brand name, I typed into Google search UK, 'triumph':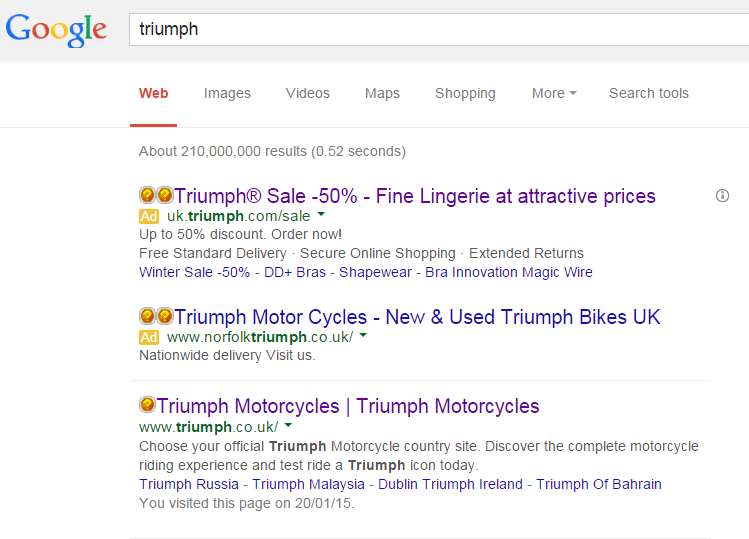 Straight away, we can see something is not right. The majority of traffic who searched for Triumph will be looking at the Motorcycle Triumph company, not the lingerie company considering the whole of the first page of search results is all about Triumph Motorcycle. Nevertheless, I will be analysing Triumph Lingerie now:
They are completely misleading. The start of the title claiming there is a 50% sale on Triumph will mislead many motorcycle fans into a click.
The only parts of the advert that suggest this is lingerie is the end of the title and the ad extension being the site links. This makes it clear that if motorcycle fans don't read much of the advert and click onto the top advert to think it will lead them to motorcycles, they will be slightly surprised on the page they land onto.
For these reasons, I am sure that Triumph Lingerie will be losing quite a lot of their budget to wasted traffic that were looking for Triumph Motorcycles. This makes it clear that if your brand name is the same as that of a much larger and more established company, don't bid for it because you will be gaining a lot of mistaken clicks from the wrong targeted traffic – I am a great example of that who was looking to analyse Triumph Motorcycles' PPC campaign in this article!
After clicking on the above advert, I came to the following landing page:
When it comes to pop up messages in landing pages, they are sometimes a good way of displaying information to a web user which they would not have found out easily through the landing page's contents itself. This makes me think that the pop up meesage that Triumph Lingerie have used is just a waste of time. A welcome message by itself does not really mean much: all it means to the web user is another box they have to click off to get to area of the website they wanted to from the search advert.
Ultimately, I feel this campaign is a bit of a let down. From the start, it is targeting the wrong type of traffic since Triumph is a huge Motorcycle brand name and secondly, the campaign isn't optimised for the short attention span of web users. I would not be surprised if this campaign was performing poorly for Triumph Motorcycles.