Where do you go when you are looking for the latest trends and news in the world of pay per click marketing?
Can you remember what it was like a few years back before all of the blogs started to take over? Before blogs and social networks, imagine how much work we actually got done!
But with all of the wasted time comes plenty of good as well. Blogging has opened up a whole new world for learning and coming across quality content and free advice from ppc marketing experts around the world.
If it's not a personal blog, then it's likely a community of bloggers bringing all of their advice and quality content together in one place. At the end of the day, it's the community, message and content that makes some ppc blogs and resources stand out from the crowd.
In this post we take a look at some of the top ppc marketing blogs that you should be reading for the best industry news and content.
Search Engine Watch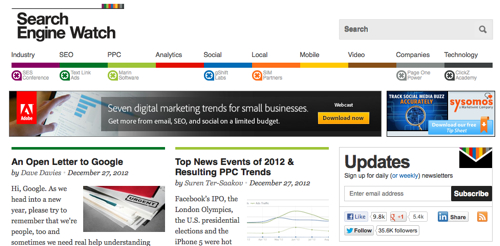 SEOMoz Blog
Marketing Pilgrim
http://www.marketingpilgrim.com/
PPC Hero
The WordStream Blog
http://www.wordstream.com/blog
Be sure to check out all of the blogs mentioned above. Each of them will bring something special and unique to the table, including their own infographics, members area, tools and resources.