Although Black Friday has officially gone for 2016, a lot of retailers are still offering many discounts,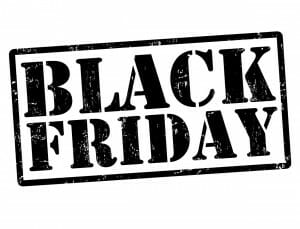 stretching the whole 'Black Friday' phenomenon to up to two weeks. As well as this, Cyber Monday is just right around the corner. Therefore, there is still time to profit from Black Friday/Cyber Monday as an advertiser. It should also be noted that Black Friday/Cyber Monday advertising campaigns work very well in linking with holiday Christmas PPC campaigns, where the target market is pretty much the same. With this in mind, here are some tips to gaining Black Friday/Cyber Monday sales as an advertiser: potentially using the advertising platform of pay per click advertising.

#1 Advertise Price First – Price is Everything
What advertisers must note with Black Friday/Cyber Monday is that it is a time of the year when people become their most price sensitive. For this reason, web users are less likely to care about little things about the product or service, such as what unique selling points that are associated to it and what features of the product or service there are. For the majority of web users, they have decided what they want to buy before Black Friday/Cyber Monday and are just trying to find the cheapest price for it.
Therefore, make sure, if you are adopting a PPC campaign, to advertise the price first since this will be the biggest differentiator between yourself and competitors.
#2 Offer Insane Discounts
Although this does not relate as much to advertising, it is a technique which many companies do around Black Friday to make deals look even better than they actually are (think of it as window dressing the prices of products and services). Take the two below examples:
There is an Xbox One for sale for $400 RRP. On Black Friday, the price is reduced to $330, giving a saving of $70 or 17.5%
There is an Xbox One for sale for $400 RRP. On Black Friday, the price is reduced in a sale to $350. Onto of this, a further discount code is available just on Black Friday to reduce the price by 10% further, to $325.
In the vast majority of cases, the second option will gain more attention due to the fact that there are more separate discounts associated to reducing the price of the product. Yes, it is slightly cheaper in the end which will encourage many people to purchase the second option. However, web users want to feel they are getting their money's worth: the more discounts applied, the more they will feel this way.
#3 Expect High Advertising Costs
This is not so much a tip but more of a warning. Due to the level of competition increasing on Black Friday/Cyber Monday, you can expect things such as your cost per click (CPC) to increase significantly. However, this is, of course, because there are millions of people that have money to burn in their pocket to buy discounted goods.
Therefore, do not be scared to invest heavily on Black Friday/Cyber Monday. It is a time of year that many businesses will make the majority of their revenue for the whole year. For this reason, the advertising budget should be set accordingly based on this.