The last PPC campaign I analysed in the 'Analyse A Real PPC Campaign' was from Buy A Gift, who had bid on their own brand name to use different site link extensions to their organic #1 result. The advert pointing to the homepage, which was fine to be used as a landing page, from being so well optimized.
With Christmas around the corner, it is a good time to look at a PPC campaign that is trying to profit from those wanting to buy gifts. With this, here is an analysis of a PPC campaign from Tiffany & Co.
To view Tiffany & Co's PPC search advert, I had to type into Google search UK, 'christmas gift ideas':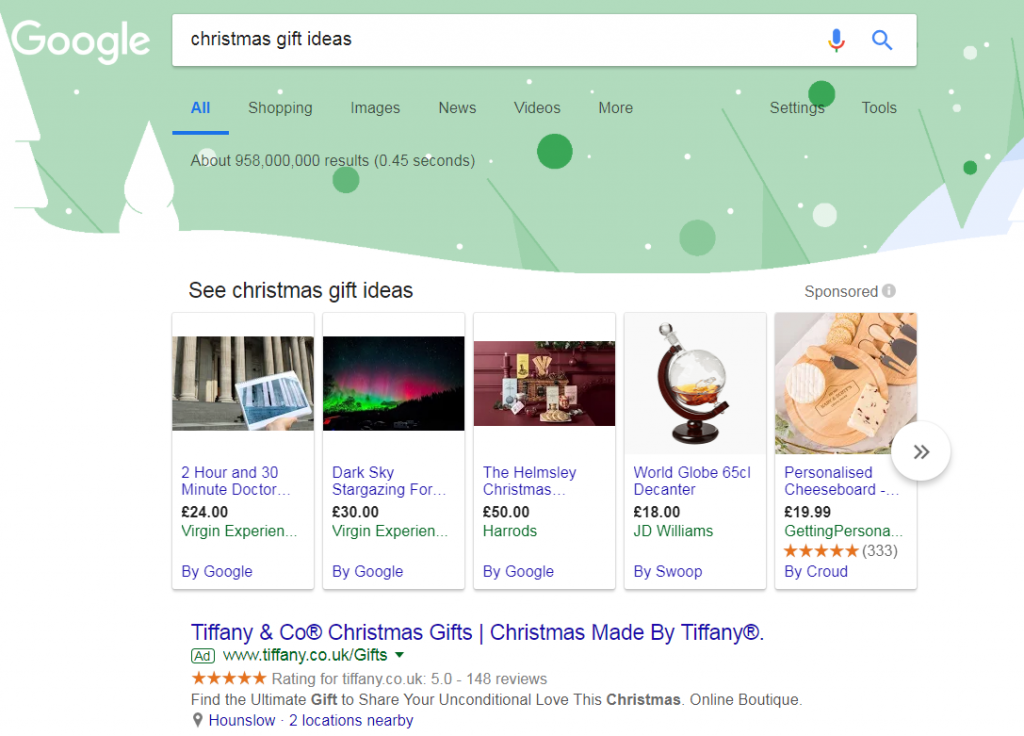 I have actually already analysed Tiffany & Co last year, who made a PPC campaign at Christmas like this last year. With this, it will be interesting to see how they have changed the campaign a year on.
The keyword targeting has pretty much stayed the same, which, for me, is a little too vague. Vague keywords tend to have higher CPCs due to the increased competition. This was the case with the search advert last year Tiffany & Co bid for being 'christmas gifts' (made clear from the max number of adverts displaying. This year, Tiffany & Co are the only search advert appearing, except for Google Sponsored Shopping results. With this, it might actually not have as high a CPC as expected.
The search advert is well designed. 'Christmas' is mentioned three times making it quite dense, whilst the ad extensions used promote quality gifts that are nearby. It is also a nice touch to be able to get a paid advert appeared for the Christmas theme Google adopts when web users search keywords including 'Christmas'.
After clicking on the above advert, I came to the following landing page:
This is a very similar landing page to last year's that Tiffany used. There are some noticeable elements to it that make it stand out as a good landing page:
The subtle comment about delivery is something many web users will be concerned about – there is no point buying anything online unless it will be delivered before Christmas. Tiffany & Co have ingrained confidence to shop their website by mentioning the last date to buy to get gifts in time for Christmas.
The two images used reflect the brand image of Tiffany & Co.
This is an effective click through landing by having two large images as the central attraction of this page, with minimal distractions and other links to click onto.
One problem with this landing page, though, is the vague keyword targeting. Not everyone will be interested in the products Tiffany offer, since it is jewelry and home accessories. By not targeting more specifically early on in the campaign might cause some of the traffic that clicked onto the link to not convert from being too vague. With this, it appears Tiffany & Co are going for quantity of traffic in the run up to Christmas than targeted quality traffic.