In the world of business and internet marketing there are always going to be different offers and business models for you to make money. It's not so much about the actual product or service that is being promoted, but instead how you are going about targeting your audience.
Pay per click marketing has always been one of the most effective and straight forward ways to connect with your audience. Even though Google may sometimes seem like they are against "make money", "gambling" or even "pay day loans" related offers, they still can't turn away the massive amount of money that is being made in this market.
Let's take a look at Google and see what their search results look like for "pay day loans". Right away you will notice that paid ads take over the majority of the page.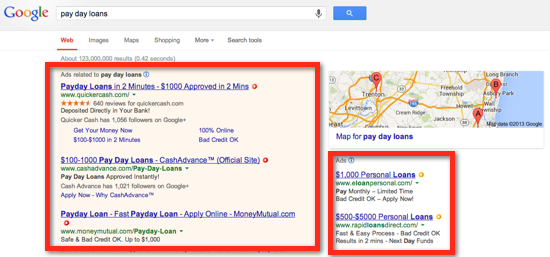 What's even more surprising is how much money is being made and spent on these ad placements as well! The pay day loans niche is one of the most competitive, rewarding and costly industries to be in. With that said, if you are an affiliate marketer for these types of offers, pay per click advertising might be out of your league right now.
In this article we are going to focus on a few different ways you can promote pay day loans outside of ppc marketing.
Analyzing the Pay Day Loans Business Model
Before discussing a few different ways to make money in this niche, let's first cover the basics of why these offers pay so well and how you can build out new ad campaigns in the process.
is an affiliate network that is strictly limited to pay day loans offers. This is all they focus on, which results in them being pretty good at it and allows their "invite only" partners to do so well with their network.
You can watch the short video below to learn more about their network, the tools they provide for web site owners/affiliates and how their ad tracking and payments work.
Getting back to the business model… as a business you need to look at everything as an opportunity and not from a personal opinion perspective. Pay day loans don't have the best reputation as they usually come with a high interest rate and are not the best for the people signing up to them. However, the product and service exists and if people want to get money fast, it's an option they have. Thus resulting in very high commissions and payouts in the $40-$180+ range.
You will even see pay day loans commercials on TV during the day and late night. It's a legitimate business that comes with a high cost to the customer, making it even more enticing as a business model for online marketers who can convert on the offer. This is yet another reason why PDM focuses their efforts on giving each  the best landing pages, ad copy and support to create winning ad campaigns.
Sending Traffic Right to Your Landing Page
One of the areas that PayDayMansion has specialized in is with their landing pages. You can see a preview of some of them below along with the network averages and payouts. The you have, the more likely you are to convert with your audience.
Commission on leads can range for $1 all the way ip to $180 depending on the amount of information provided and if the lead converts to a completed transaction. These landing pages can also be used through ppc, seo, sms and call center promotions.
Three Ways to Promote Pay Day Loans Outside of PPC Marketing
If someone is going to the search engine and looking up ways to get money fast, they are likely going to signup to one of the offers they click on. While ppc marketing is one of the best way to drive leads, there are plenty of alternative methods as well. Here are a few of them.
Media Buying – If you ever wanted to get your ad campaigns a lot of traffic and exposure media buying is one of the best ways to do so. This can be anything from pop unders or banner advertising. Advertising across finance, unemployment, education and job training related sites might be a good option for you to convert these types of offers with your audience.
Finance / Help Sites – Just like you can advertise on other web sites based off their content and audience, you always have the option to create your own financial or help sites or blogs to attract the right audience. Every day people are going online to find more information on how to get access to quick money, whether that be through pay day loans or banks. You can build informational sites to reach the right audience and provide information on these types on loans, which can lead to more signups and customers without the need to pay for advertising.
Email Lists – If you have the money to spend and aren't looking to build out hefty ad campaigns or sites of your own, email marketing is another option. There are thousands of big email marketing companies that have millions of customers signed up to lists. You can pay to have your ad sent out as a solo mailing. This can be a costly option, but it also delivers one of the fastest and highest converting results.
Is this the Right Market for You?
As mentioned earlier, not all business models are the same, nor are the methods for which they make money. The pay day loans business is a serious one and while everyone might not agree with the high terms and interest rates they offer to customer, it's a growing business with a lot of money behind these offers if you know how to get them in front of the right people.
If you would like to learn more about this business and how to make more money with your sites and ad campaigns, be sure to check out .