When it comes to landing pages, you either convert or you don't. The difference between throwing one landing page up, and accepting it's conversion rate and never looking for improvement, is the difference between winning and failure. As marketers, we have access to all of the landing pages and ad copy the world can offer us. Let's take a look at what some of the top brands are doing to convert visitors right when they get to their landing pages, and how you can do the same.
Target Landing Pages Based on Location
There is nothing new about geo-targeting on landing pages, but I don't know if anyone does it better than dating web sites and landing pages. One of the reasons why geo-targeting works so well in the dating niche, is because people are going to be looking for single people that are already in their area. Outside of dating, geo-targeting can be used as a "Call to Action", such as "We are looking for individuals in City/State to complete our survey". It's that immediate thought process and customization to an individual that will make them look again and stay interested.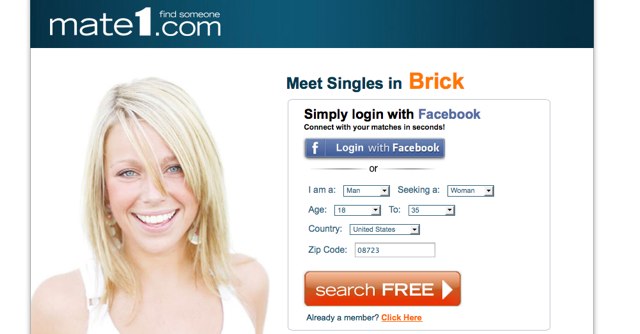 Immediate and Easy Call to Actions
While writing up this post I happened to type in the wrong url for a web site, then the following YellowPages offer popped up onto my screen. Since this was a URL typo, it could be considered general traffic, which is always a tough one to monetize. YellowPages does a great job with their landing page, by having an immediate call to action and offering 50% off on every day tasks. To make the offer even more enticing, they are offering a $5 credit towards your first deal of the day. The bottom line here, simple offer and extremely easy signup process. EMAIL. ZIP. SUBMIT. I'm sure this offer converts well, even with general traffic.
Limit Distractions and Choices for Visitors
When it comes to landing pages and shopping carts, the less distractions and options you offer to the site visitor the better. It's true, Amazon has mastered the art of making the sales process simple and easy, and having an extremely low page abandonment rate. The same needs to be done for landing pages. You want to remove as many unnecessary distractions and outbound links as possible. Landing pages are creating for one reason, and that is to bring the user to a specific final action. Grand Chase Choas is an extremely popular affiliate offer and game online, and it's making a lot of people money. Take a look at their landing page, what options do you have when you get to the site? You are either going to join or close the browser out! Excellent example of how to convert site visitors for games/download related traffic.
It's All About the Conversions
If you are running any ad campaigns with landing pages, you need to be split testing and see what improves and decreases the conversion rate on your landing pages. The smallest changes, such as color and form placement, can have a huge effect on your overall conversions. The dating niche is one of the most competitive markets for online advertising. Take a look at how the competition is one upping each other and creating the best converting dating landing pages for their traffic.