As web site owners, bloggers and entrepreneurs, we are all over worked and are now finding it now harder than ever to complete our simple day to day tasks. One of these many tasks is the ability to write new and original content for our web sites and blogs every day.
Many people don't know it, but there are several places that you can start hiring people to write content for your web sites. In addition to already have marketplaces and networks for you to use, it may also be cheaper to hire content writers than you think.
Let's quickly discuss three different reasons why you should start outsourcing the content for your web site or blog.
1 – Freelancer Writers are Waiting for You
Established content writing networks like Blogging.org are loaded up with content writers who are just waiting for new jobs to be listed on the site. When you post a writing job on networks like these, your article job will go live and then all of the writers on the network will see your job description, then someone will complete it for you. This means that you will get your article jobs completed fast.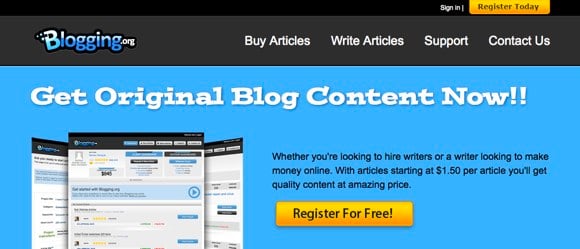 In addition to other content networks, you should also be posting content writing jobs on blogger job boards.
2 – Content Writers are Cheaper than You Think
As mentioned, the content writer networks and are already out there, you just need to sign up and create the writing jobs. Once you lay out what you are looking for in your writers, you will have to think about your budget as well.
Some content networks will allow you to get articles written for nearly a dollar each. You also have the option to hire writers on a long term or monthly basis through sites like elance.com and freelancer.com. It's much easier and cheaper to hire foreign writers, than native US based writers. Do your research and make sure you find a quality writer.
3 – Find a Writer: Automate, Set and Forget!
Once you've found yourself a quality writer, you can then teach them about how to writer articles, schedule them in and what to look for in future site content. The end goal is to find a quality writer who writes in proper English and also has a good work ethic.
Finding a quality writer who writes proper English and does everything on time is hard to find, so don't get discouraged when you have to search through a lot of people to find the right one. Also be sure to post simple jobs to weed out the best writers from the low end ones.