Self Serve advertising has been one of the hot trends over the past couple of years. The idea of creating an ad campaign and waiting for an ad team to create your ad, and waiting on someone to make any changes or even provide you with sales/stats tracking, that is just a thing of the past. Now, thanks to more advertising companies moving to a self serving platform, advertisers can create ad campaigns faster, upload more ad copies and build more successful ad campaigns.
Let's take a look at three different ad platforms that offer self serve promoting. By self serve, I mean you are in control of building your ad campaign and targeting who you want to see your advertising.
You already know Facebook as one of the largest web sites in the world with over 800 million users, now think about being able to advertise to these 800 million users based on their demographics and interests. With that said, Facebook Ads have become one of the most successful and immediate means for advertising to a massive audience. In addition to promoting your own ad campaign, you can also build Fan Pages and drive traffic through targeted advertising. Advertising is done through 110×80 images/thumbnails and text descriptions. You can bid on a CPC or CPM model, rates will vary depending on location and demographics.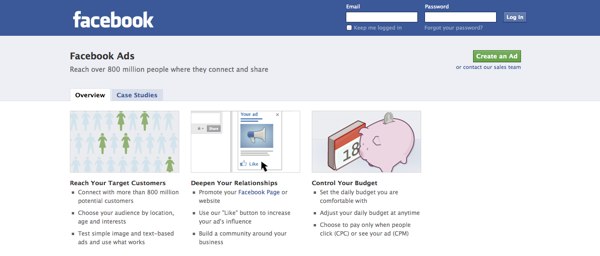 One of the largest free dating web sites in the world, is also one of the best advertising platforms available as well. Plenty of Fish came out with their self serve advertising platform after Facebook Ads, but they have listened to the marketers that have been using Facebook Ads to make their platform one of the best around. Since Plenty of Fish is a dating network, you can target your ad campaigns to virtually any demographic (think in terms of dating). There are multiple banner sizes and ad/text models to choose from. The basic advertising model through the site is on a CPM basis and is on a auction type of model, as in the top bidders will get the first position and most traffic. (Also see Plenty of Fish Ads Uploader)
If you are looking for game traffic, you need to look no further than Mochi Media. Targeting capabilities include game type and country. The bidding process is on a CPC or CPM model, and the rates will vary depending on your targeted location. The universal banner size across the network is 300×250 ads. (Mochi Media review)
Feel free to leave any comments on your favorite self serve platforms or any that may have not been mentioned.