As a former business studies student, I do tend to find myself linking pay per click advertising to business topics alot. Why? When you look at PPC from a business perspective, it does look like a business with a main priority in the advertising sector. There is the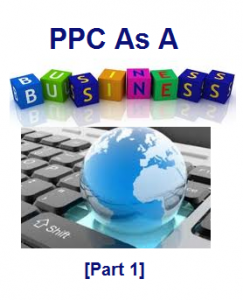 product/service you are trying to sell. There is the advertising campaign to gain you more sales. You have to budget and look at what competitors that use the same keywords are doing and then react to them. Making this similarity is one thing. The next step is to know how looking at PPC from a business perspective can improve your own campaign.
One thing all businesses do is apply contingency plans to every task (or the most important tasks) they do. This is a plan which prepares the business for when plans fail. From doing this helps the business to reduce the deficit of the problem or even solve it creating the best from a bad situation. In PPC, you can do the same. If you don't know how to layout a PPC contingency plan, create a document answering questions such as:
What should I do when my PPC traffic decreases?
My landing page, of recent, is under performing. What should I do?
The CPC for my campaign's keywords have increased, what should I do?
I hope this makes clear what contingency questions should include. What should I do? You have to ask yourself what should you do in bad situations. From doing this, you will stop yourself from panicking and making the wrong decision when bad scenarios occur.
Another idea included into the very heart of businesses is a cash flow forecast. A cash flow forecast records all the incomes and expenditures of one business month by month showing the business where they will be financially more healthy. In PPC, an advertiser can do exactly the same. Through creating a spreadsheet, the advertiser will be able to see every aspect of their campaign finacially from a cash flow perspective. This will help in:
Identifying months where the advertiser can increase his/her PPC budget such as the holiday season.
Find trends in spending or income which can be reduced or increased.
A cash flow will not take up any time at all: all that is needed is a spreadsheet to record your cash flow for your campaign. From doing this, the advertiser will then be able to produce graphs comparing income to expenditure. This will prove extremely useful especially when looking at:
CPC compared to CTR.
CPC compared to Conversions.
PPC Budget compared to revenue produced from PPC.
All of this can be analysed through a cash flow forecast. Although Google Analytics is great at identifying landing pages as you may have known from some of my previous articles, it is not the best at analysing a whole campaign. A cash flow will be able to do this.
To finish off this part one, I will talk about one last aspect of a business: human resources. Although customer services is deemed much more important when selling face-to-face, your landing page and advert needs an element of good customer service for your campaign to keep your potential customers satisfied. For example, most PPC campaigns will offer just a product or service. Make your campaign different by introducing a USP being customer service. Not only is the potential customer getting their product or service, they are also getting a great experience when purchasing the product or service too.