Choosing the right domain name for your website is a critical process, mainly because if you decide to change your domain name some time into the future, it can a tedious process getting Google to recognise this.
For those that have decided to change their website's domain name or are thinking of doing so, there are a few articles out there that state you can change your domain name without losing any traffic to your website – this is the main concern with changing domain names. If I change my domain name, will I lose traffic to my website in the short or long term? Some people do not seem to think this is the case. However, I am unfortuntately hear to show you, from my experience, that you will lose some short term traffic to your website. However, in the long term, you will benefit ten-fold from havin a better domain name.
So I was in the situation of transferring domains for one of my website, hence why I created an article about how to redirect https:// to https://. The process of actually changing domains when you have a https:// is a little more difficult than a http://. Nevertheless, the outcome is still the same – Google recognises the domain change and starts initiating this inside the search engine.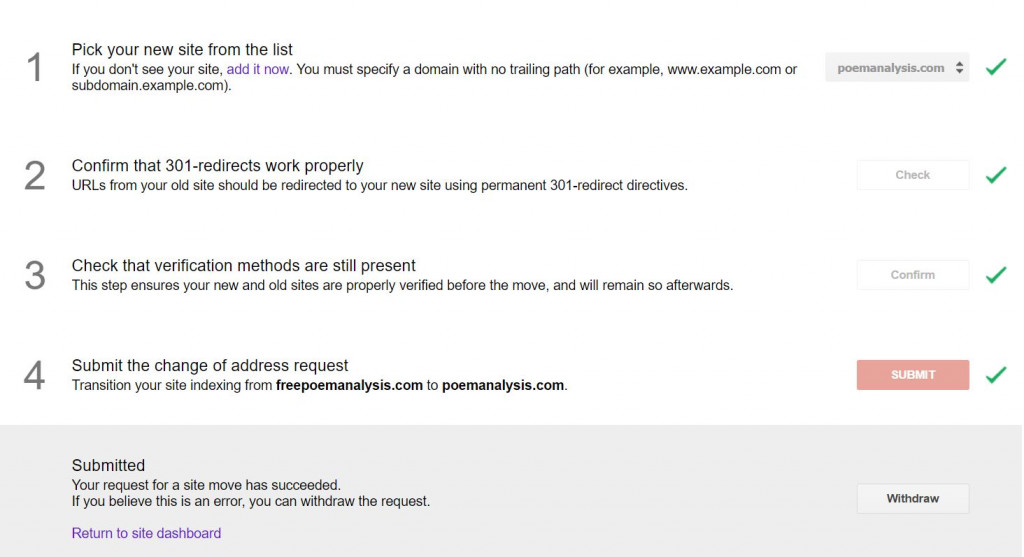 When you see this page in Google Webmasters tool, there is pretty not much you can do but wait for the domain name change to occur. For my situation, FreePoemAnalysis.com (be it http:// or https://) directed to https://poemanalysis.com which means for any traffic in the short term that tries to visit FreePoemAnalysis.com, I should not lose traffic to my website. Everything looks great, right?
Well, the problem is that, although everything redirects perfectly, the way in which Google transfers a domain means you will most likely, like myself, lose some traffic in the short term. For example, the below image illustrates the number of clicks on Google links to FreePoemAnalysis.com recieved:
The red line shows the point at which I initiated the change in web address while the blue line shows the overall trend for clicks coming from Google (the bit before that was lower due to Christmas and the holiday season).
So, from this, we can see that there is almost an immediate response by Google to start ramping down the traffic that is produced by the old domain name, FreePoemAnalysis.com. Within just three weeks, the traffic had reduced to nothing. Let's now take a look at the clicks produced by the new domain name, PoemAnalysis.com:
What we can see here is the organic traffic the new domain produced since the web address change. At first, there was a few days where no traffc was produced and then it started to pick up. But, what is most interesting, which both graphs don't show, is that the day with the most traffic for the new domain name is around half of the day with the most traffic prior to the name change. So, even 4-5 weeks in, the traffic has not completely recouped yet which goes to show you will lose a significant proportion of organic traffic when changing web address.
Will created AskWillOnline.com back in 2010 to help students revise and bloggers make money developing himself into an expert in PPC, blogging SEO, and online marketing. He now runs others websites such as Poem Analysis, Book Analysis, Ocean and Beyond, and RestoringMamods.com. You can follow him @willGreeny.