With so much competition in the online marketing space, whoever is able to come up with the best self serve advertising platform will likely with the hearts and budgeting dollars of internet marketers around the world. Engage: BDR recently launched their own self serve tracking platform called First Impression, which allows marketers to build ad campaigns based around not only web site placement, but also mobile and video advertising.
"It was my goal to build a platform that direct response advertisers could use for both their online media buys as well as their mobile media buys," commented Nick Lynch, engage:BDR's Vice President of Platforms and Manager of First Impression.
Through First Impression, marketers can create ad campaigns that can span across nearly any traffic source while expanding their reach across the United States and all other countries around the world. With the limitations in advertising through other self serve ad platforms being offered by social networking sites like MySpace, Facebook and Plenty of Fish, First Impression will give that much needed edge to marketers who are looking to massively expand their online and mobile reach.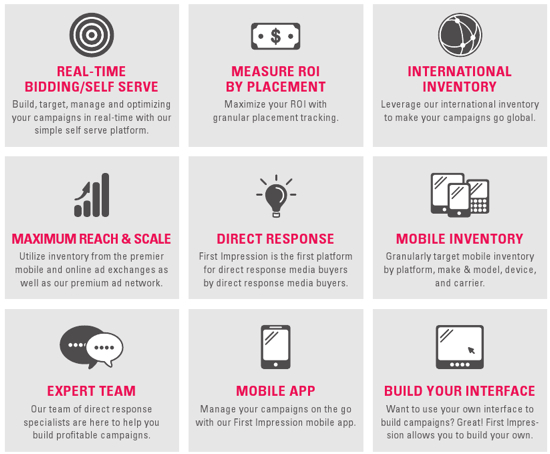 Let's quickly recap what Engage:BDR RTB Self Serve Platform has to offer.
Inventory Types:
Online Display
Mobile Display
Video (Launching Mid Q2)
Inventory Quality:
Tier 1: engage:BDR channel – Premium, Above the Fold, 1st Impression, Publisher Direct
Tier 2: Mid-Level 3-5th Impression, Above the Fold
Tier 3: Exchange/Remnant Traffic
Inventory Reach:
Tools:
Granular campaign control down to the creative
Audience Targeting: age, gender, race, income, etc.
Mobile Targeting: publisher, platform, make, model, device, carrier, etc.
Mobile Ad Builder and Landing Page Builder
iPhone App to manage campaigns on the go
API access to build your own tools and UI
As you can see, there is a ton of information and features here… which is exactly what you need when it comes to creating your own ad campaign across multiple platforms and traffic sources. Visit Engage: BDR First Impression to setup your account and start managing your own ad campaigns on one of the best self serve advertising platforms around.