Written by: Chandana Das
When you discuss digital marketing, there is one thing that you can never get away from: SEO.
SEO remains dominant in the digital marketing world. People use Google and other search engines as their gateway to the web to find answers and solutions, and this is not going to change.
If you want your site to show up when people search the web, you are going to have to focus on your SEO. But because SEO is constantly changing, it's important to stick with the trends. Here are some of the areas to look out for in 2016 and beyond.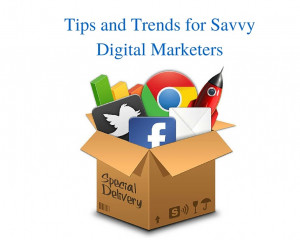 Mobile Search
Mobile has got to go at the top of the list. 2015 saw a greater focus on mobile with Mobilegeddon back in April, when Google made it clear that websites must be optimized for mobile if they are to display in the mobile SERPs.
This is going to continue into 2016, and it will become even more pronounced.
eMarketer has some excellent stats that show where mobile is going. US search ad spending is going to increase from $13.32 billion in 2015 to $18.53 billion in 2016—a 65.7% increase[1].
There are now predictions in the industry that mobile optimization will become more important than desktop optimization this coming year.
If you go on a digital marketing course, the importance of mobile is one of the first things you will learn. Get the facts from Simplilearn on one of their courses, for example, to find out what you need to be doing.
Voice Search
One of the effects of the rise of mobile use has been the increase in voice searches. Digital assistants are common now, with people all over the world using Google Now, Apple Siri, and Cortana to find quick answers to their questions.
The more people that use these, the more effect it will have on your SEO, and this is exactly what will happen over the coming year.
The important factor to remember is that spoken searches are more conversational in nature. People tend to use more natural language, often using longer questions—compared to typing a few keywords into the search engine.
The most important area to focus on here will be to include long-tail keywords in your content. Research the types of long-tail keywords that people will search to find your products and services, and especially question phrases, and ensure you build these into your content strategy.
Indexing of Social Content
Social media has played an important role in SEO for a while, and social shares and links are a factor in ranking. Twitter content has also been indexed for a while by Google, and Facebook has made a deal with Google as well.
Now social is set to become even more important over the coming year, where we should see a rise in the number of social updates that show up in searches from various social networks, giving your social posts greater value.
Local Search
Again, local search is another area that has long been important but which is going to get even more important over the coming year.
A combination of smarter local indexes and greater use of wearable devices means we should start seeing even more specific local results, where people see results based on exactly where they are, rather than just the general area they live.
Sign up with Google My Business if you have not yet done so, and make sure you focus on creating local content. This is especially important for retail stores and restaurants serving the local community.
Interactive & Video Content
Interactive content and video content are also set to become more important in 2016. Content has always been essential for SEO, and getting people engaged with your content leads to shares and links, which boosts your ranking.
Surveys, competitions, and videos are especially popular on mobile devices, so ensure you include these in your content strategy. This doesn't mean you should only create video or interactive content, but make sure it makes up a part of it.
Follow the SEO Trends This Year
These are the most likely trends that we will see in SEO in 2016. Of course, Google may throw us a few surprises, and some of these areas may become more important than others. Make an effort to keep up with the trends this year to stay on top of the changes in SEO, and by doing so you can ensure you are doing all you can to optimize your SEO strategy.
Author Bio:
Chandana is a Senior Content Writer for Simplilearn.com. She has a M.A. in English Literature from Gauhati University and is PRINCE2 Foundation certified. Her unique and refreshing writing style continues to educate and inspire readers from around the world.
Resource:
http://www.emarketer.com/Article/US-Mobile-Ad-Dollars-Shift-Search-Apps/1010898