The last article in the 'Analyse A Real PPC Campaign series' looked at Nike football who have created a PPC campaign to help them spread awareness for their new styled football boots that are meant to revolutionise football.  This was a clever move by Nike to make considering the Brazil 2014 World Cup is just around the corner and there will be many people around the world that will be looking to get into the World Cup spirit by buying football boots. In this article, I will be looking at a constantly booming industry, the music industry, to see the different types of campaigns that come up.
In this article, I will be looking at Sony Entertainment's PPC campaign. To view their campaign, I typed into Google search UK, 'download music player'.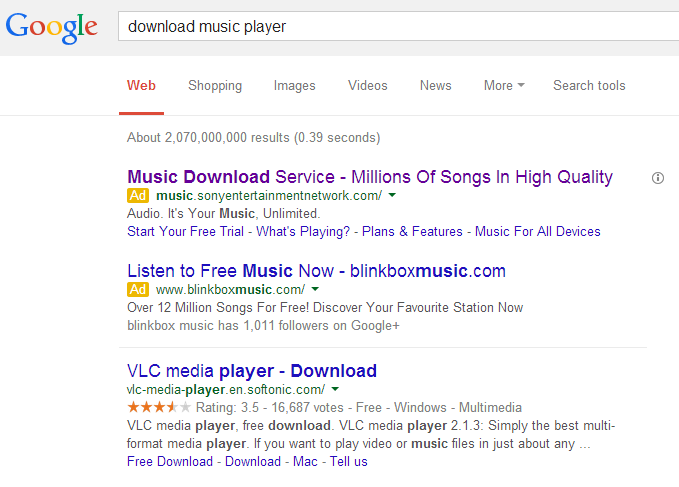 What is first made apparent with Sony Entertainment's campaign is that they needed to do a campaign in order to gain the best spot on search engine results: their main competitors such as iTunes and Google Play music are located on the first page of organic results. PPC is the only way Sony Entertainment can rank higher than them quickly.
Looking at the advert itself, it is interesting how Sony, being a brand that many associate with quality and good products, have only mentioned their brand once and that is in the URL section. What this makes clear is that Sony does not want you to go to their landing page because of their name. They want the traffic to go there because of what they have to offer. For example, take Apple iPod's campaign which mention 'iPod' four times in the advert and three times alone in the title! This is an interesting strategy which should pay off since it will then be a plus when web users realise who is offering the music streaming service (if they haven't realised from the URL it is Sony)…
After clicking on the above advert, I came to the following landing page:
The first thing I notice on this landing page is the fact that Sony Entertainment decided to include social media buttons (to the right). From doing this, they have enabled their landing page not only to get contextual traffic from PPC but potentially much more traffic from the world of social media. Well done for well optimising your landing page Sony!
It is clear that their landing page is a click through page with the click wanting to be on the purple buttons. The choice of colours for landing pages are an important factor to its conversion rate and it looks like Sony have chosen correctly. Purple is commonly stereotyped for being an expensive, wealthy and a rich colour. Therefore, it makes sense to make the click through buttons purple: 1) it stands out and 2) it makes the music streaming service seem that bit better. For this reason, Sony Entertainment's landing page is well optimised to their needs of gaining a click on the purple buttons which directs traffic to signing up for Sony Entertainment's music streaming service.