Another month has come and gone which means, for PPC.org, another round up of the best articles published about all things pay per click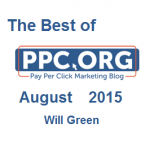 advertising. August mainly looked into how to optimise different types of landing pages. However, as well as this, there was an interesting article about Ezoic with it being an update to the service that claims to significantly increase Adsense earnings. What made this article the most interesting is the comments that people have published based on their thoughts and experiences with Ezoic. But, enough with August, here are the best articles on PPC.org from September 2015. 
Analyse A Real PPC Campaign Series
Like with most months, there is a great selection of campaigns analysed as part of the series:
Improve ANY Type of PPC Landing Page
This article should be deemed a 'must read' for anyone involved with PPC. This article has links to articles which enable advertisers to learn about how to improve any (and I mean any) type of PPC landing page. Since the landing page is a fundamental element of a PPC campaign, any person involved with PPC advertising will, to some extent, learn something by exploring the articles linked within this article.
3 Things You Didn't Know About PPC
Every so often, it can be quite interesting to learn something that makes you a little surprised – this is the point of this article. General knowledge on a topic of your choice is going to help you when you do something to do with that topic. The last sentence is vague but what it means is that if your general knowledge on PPC is better, you will have a better overall understanding of PPC that will benefit you, the advertiser, and your campaign.
The keywords to a PPC campaign are vital to the performance of it because, at the end of the day, if you target the wrong market, your campaign will never become a success. For this reason, here are some fundamental keyword selection tips to use.
2 Things To Include In ANY Advert
Here are two things any advertiser can make sure to include in their PPC advert. I like to look at these 'two things' as elements that can benefit an advert no matter what the advert is about.
There's the top eight articles I believe I created in September 2015 that will benefit you the most. I hope this has proved useful to you like it has for so many other people.