I always find September a good month because it is the start of the educational year. Lot's of students are heading back to school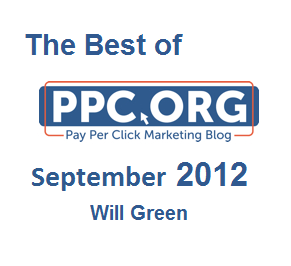 (hopefully) eager to learn. This can mean for advertising campaigns aimed at students that their best months may in fact be around the September or Autumn region. Either way, another month of articles have been published on PPC.org which ultimately results in picking out the best of the best articles that are going to benefit you the most. 
Analysing A Real PPC Campaign – Halifax Bank Loans
September has been a month where I have introduced a new 'kind of' series called Analysing A Real PPC Campaign. It's all good talking about PPC. However, putting theories into practice is sometimes the hardest bit. In these articles, I type a keyword into Google and see what advertising results are displayed. From this, I can analyse their campaign from the CPC they have used, description and heading in their advert to the landing page which we as PPC traffic land on. These are the type of articles where you will see theories put into practice by main stream companies.
Why You Are Not Making Money From PPC [Part 1] and [Part 2]
In PPC, it can be quite difficult determining the reason for your failure seeing that it could be many areas. This part one and part two highlights six reasons why you may not be making from PPC. With this, you may think I will have spoken about the obvious reasons such as a low CPC or bad landing page of which I do. However, these are not always the only reasons people fail in PPC. For example, optimism. Creating a too optimistic campaign will result in an inefficiently running campaign that ultimately doesn't make money.
If you ask me what I think the most important element to a PPC campaign is, I will say every time that it is the landing page. It is where your paid traffic will end up and if your landing page is no effective in gaining a high conversion rate, you will be wasting a lot of money getting the traffic there to begin with. This article helps in identifying the key elements a landing page should include which should increase your conversion rate.
Is BuySellAds a Competitor to PPC?
This article is a must read considering it was mentioned and publicised on the one and only . In this article, I talk about the progression banner advertising has had to become a competitor to PPC. Looking at both the advertiser and publisher side to BuySellAds, I go through the positives and drawbacks to BuySellAds and banner advertising and how it compares to PPC.
What PPC Statistics Tell You About The Publisher's Website
I think this article is good at bringing forward the point that you can look to use PPC in so many different ways. In this article, I use PPC statistics to get a glimpse at the type of website's a campaign is managing to advertise on. For example, if your CPC is higher than expected for your campaign, you can be sure that you are advertising on a website with a higher page rank.
There's the top six best articles I believe I created in September 2012 that will benefit you the most. I hope this has proved useful to you like it has for so many other people.