It is coming ever closer to Christmas which means it is the perfect time to catch up on a few articles from last month that can help you improve your holiday PPC campaign to maximise the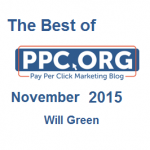 potential of it. For most advertisers and companies, it is this time of year, around Christmas, that most of the whole yearly sales are made. Therefore, any mistake or poor optimization that is in the PPC campaign now will be amplified. October had a great selection of articles and November is looking to offer the same. Therefore, without further ado, here are the best articles on PPC.org from November 2015.
Should You Be Worried About Click Fraud?
Let's be honest. Sooner or later, you will have a campaign that will experience some level of click fraud. Now, for the majority of times, this is not a problem. However, there is the general idea that click fraud will lose you money decreasing the size of your PPC budget. This article was created to help provide some level of support on click fraud with regards to what is done about it and how you, the advertiser, can help eliminate it from your campaign too.
Combining PPC and SEO in Synergy
I have made numerous amounts of articles that compare PPC directly to SEO. However, the main point this article is aimed at bringing forward is that, for best results, you should be combining PPC and SEO together. SEO works for long strategies but is not effective in the short term – that is when you use PPC. Therefore, you can use both advertising platforms to create synergy-like results.
Analyse A Real PPC Campaign
Like always, there are some analysis of real life PPC campaigns that look at their main strong and weak points (for which advertisers can take note of to include/not include in their campaigns.
2 Ways To make Your PPC Landing Page Load Faster
One of the reasons why web users exit of landing pages is because of the time it takes for the landing page to load – the average attention span of a web user online is very low because there is always a next best alternative. For this reason, here are two effective ways to help increase the loading time of your landing page to entice the web user to stay on your landing page for longer.
There's the top seven articles I believe I created in November 2015 that will benefit you the most. I hope this has proved useful to you like it has for so many other people.