It has been a while since I last updated this series (back in April actually)! Anyway, April had brought a good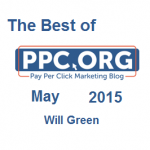 selection of articles ranging from articles about improving a PPC campaign to the 'Analyse A Real PPC Campaign' series to the news that Google are going to favour mobile friendly websites on mobile search results. In this article is a wide selection for articles so you are sure to find at least one or two that will be a useful read to you.
I really like doing these type of articles because they are usually full of great information and useful to so many advertisers out there. In this article, I underline three tips you can use with your PPC campaign to help improve its performance.
How to Create An Amazing PPC Image Advert
There are lots of articles that can help advertisers improve their search adverts on PPC.org. For image adverts, well, there is not so much. The fact of the matter is that image adverts are sometimes the best campaigns because they usually achieve amazing CTRs as compared to search campaigns and have less restriction to the design and size of the advert. Here are a few tips to creating an image advert for PPC.
Analyse A Real Campaign Series
Like always, there is a great selection of articles from the 'Analyse A Real PPC Campaign' series:
Disney – You would think Disney's PPC campaign would be spot on and as close to perfection as a campaign gets. However, there are both areas of improvement for the search advert and landing page.
Tunecore – Tunecore's whole PPC campaign can be considered a fail for the specific reason of poor targeting (which you can find out by reading the article).
Alfa Romeo – With this campaign, it is, er, okay. It is nothing special – it has good and bad points which means we can all learn from this campaign!
Similar to the style that '3 Of The Best PPC Tips' article is in, this article highlights four mistakes advertisers should not make in PPC so they can make sure as close to 100% of their budget is going to good contextual traffic and not silly mistakes throughout the campaign that, overall, makes it run inefficiently.
4 Alternatives To PPC Advertising
Although the majority of advertisers will use PPC, it is not a bad thing to have a look every now and then at the competition out there for advertising. In this article, I look at four of the biggest alternatives to PPC you can potentially use to bring in results like with PPC.
There's the top seven articles I believe I created in April 2015 that will benefit you the most. I hope this has proved useful to you like it has for so many other people.