Another month goes by which means another month to group the best PPC articles from March 2013. For March, the articles are quite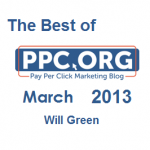 diversified looking at tips and tricks to the advertiser side to PPC. If I could pick out one tip from all the articles from March, it would be to never give up on a failing PPC campaign. There is lots of help out there on the internet (and even this website) that can help you turn a PPC campaign from zero to a hero. 
A Low CTR In AdWords Is Not The End Of The World
To continue the tip I said above, many people thing a reason their PPC campaign is failing is because their adverts are not gaining a high enough click through rate. However, this article is here to make things clear that a low CTR is not always that bad – it just means if you need quick and lots of short term traffic, it will be harder to achieve. As well as this, this article looks at the factors which may cause your campaign to have a low CTR.
John Lewis – Analyse A Real PPC Campaign
I really do think these articles hold great tips and tricks for advertisers that use PPC. For advertisers unsure about their campaign, they can gain helpful tips from larger businesses who also have PPC campaigns such as John Lewis. Best bet is that the larger the business is that uses PPC, the more successful the campaign is likely to be. From analysing John Lewis and other large businesses, I think it is clear that statement is true.
The First 6 USPs Of PPC Advertising [Part 1]
and…
The Second 6 USPs Of PPC Advertising [Part 2]
When it comes to making people buy/use a product or service, the product or service needs to have a few USPs (unique selling points) to entice the potential customer into using or buying it. In these two articles, I look and acknowledge six USPs PPC advertising has over other forms of advertising such as banner advertising and in-text advertising. Once you have read these two articles, you will understand much better why millions of people use pay per click advertising to make money online. What you will also find is that some of the unique selling points of PPC don't just separate themselves from just banner advertising and in-text advertising: some of the USPs separate PPC advertising from everyone. PPC is a truly dominative force in online advertising. If you are not using PPC now, I am sure these two articles will encourage you to start using them…
There's the top four best articles I believe I created in March 2013 that will benefit you the most. I hope this has proved useful to you like it has for so many other people.