These monthly review articles can be so helpful for advertisers that use PPC because it enables those advertisers to gain a whole range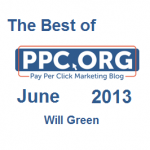 of quality articles on PPC and online advertising to help improve their campaigns. Sometimes, it is difficult finding the right information since there are so many articles out there on the internet. This is why I list the best articles I create every month. Below are some articles that you can read which will help improve your experience with PPC from June 2013.
Best PPC Programs To Make The Most Money 2013
In this, article, I look at three pay per click programs and how well I was able to make money with them from using them. These three programs are Adsense, Media.net and Ad Dynamo. Each have their positives and negatives. Before you enrol into using one of these programs as a publisher, have a read of my experiences with them in this article – you may find that you are put off by one of the PPC programs listed in this article from my experience with them.
Three Landing Page Optimisation Tips
I am obsessed with landing pages in PPC because it is the 'make or break' part of the campaign. For this reason, here are three tips you can apply to any landing page to make sure the web user does not exit the page and instead gains you a valuable conversion. What makes this article good is that I used a real life example of Sony's PPC landing page. This will help you understand the tips I am presenting within the article.
Why Are Adsense So Successful?
June saw the 10th birthday of Google Adsense. To celebrate this, here is an article to explain just why Adsense has been so successful over the last decade. You will find that Google still holds many unique selling points over other PPC programs which maintains them as the market leader in PPC.
Sony – Analyse A Real PPC Campaign
My 'analyse a real PPC campaign' series is going really well at the moment which sees me analyse more and more real life PPC campaigns. This month, the best analysis is of Sony who had used PPC to advertise their VAIO laptop range. There are both positives and negatives to draw out from Sony's PPC campaign which you will be able to apply with your own campaign.
Two Other Ways You Can Use PPC
PPC is given a stereotype that advertisers use it to make money by selling a product or service. However, this is just not true. PPC can be used for more ways than to make money from selling a product or service. Therefore, in this article are two other ways you can use pay per click advertising that will help benefit yourself online.
There's the top five best articles I believe I created in June 2013 that will benefit you the most. I hope this has proved useful to you like it has for so many other people.