During the month of June, there has been many great PPC articles written bringing forwards points to developing and experienced advertisers which before they may have not known. In PPC, I feel that the majority of the internet tend to point towards the big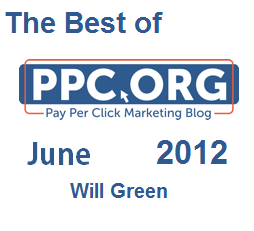 changes to a campaign to improve its performance. However, its sometimes the small tweaks you do to a campaign which have the biggest impact. In June, I try to talk about specific individual factors which you can tweak to help improve your campaign. 
[Must Read] 4 Ways You Can Improve Your PPC Campaign
Although this article goes against what I have just said above, it is still a valuable article that offers four great tips to improve your campaign in general. Most advertisers will look at pay per click advertising as something where you can gain good traffic from. However, PPC can be used in so many more ways than just a traffic boost. This article highlights one of them ways. If you want to look at the others ways, you may want to check out 3 Ways You Can Use PPC.
[How to] Eliminate Click Fraud From Your PPC Campaign
Click fraud has been given the stereotype that it only affects publishers of popular programs such as Google Adsense. Ultimately, the publishers get more affected by click fraud than advertisers. This doesn't mean us advertisers can't stop our campaigns from encountering click fraud. This article goes into detail why different campaigns will be affected by click fraud and ways to reduce it: a must read for any advertiser with a low conversion rate.
[How to] Find the Right Keywords For Your PPC Campaign
This article looks into the area of keyword choosing in a PPC campaign. Most advertisers approach PPC different to others because they have different corporate objectives for their campaign. One advertiser may want short-term and fast traffic while another may want most contextually based traffic for the long term. This article will help give you guidance about how you should approach choosing your keywords and CPC to your campaign if you know what campaign objective you want to achieve.
Applying Contingency Plans to PPC
This article looks into the part of PPC when your campaign doesn't go according to plan. In this situation, it can be seen necessary to prepare a contingency plan so that you can reduce the deficit of failure to your campaign. In an economic climate where the euro is weak and we are just leaving a depression, the chance of failure can be quite high making it essential to create a contingency plan.
[How to] Succeed in Banner Advertising
If you are looking to diversify your advertising campaigns online or feel like a change from PPC, this article helps to prepare you for entering banner advertising and making a success of it too. Seen as a strong competitor to PPC, a lot of advertisers would have tried banner advertising but failed due to lack of experience. From reading this article, you should have gained a help in hand into entering banner advertising.
There's the top five best articles I believe I created in June 2012 that will benefit you the most. I hope this has proved useful to you like it has for so many other people.