Another month goes by in the world of pay per click advertising which means another update to the best PPC articles out there on the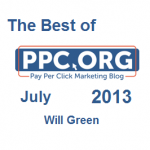 internet. The objective of these types of articles, including the months before, is to give both advertisers and publishers of PPC a range of high quality articles to read and gain helpful information which will help them maximise PPC more to its full potential. Here are some useful PPC articles from July 2013.
SuperCasion – Analyse A Real PPC Campaign 
Continuing my 'Analyse A Real PPC Campaign', I was aiming to analyse a campaign from Casio and typed their brand name into Google. However, SuperCasino's PPC advert came up instead! This makes clear that SuperCasino have adopted a different strategy to PPC by bidding on spelling mistakes too as well as the obvious keywords. This is an interesting analysis of a PPC campaign.
Learn How To SEO Articles Automatically
The fact is that every publisher or advertiser will have done a bit of blogging in their life be it guest blogging or blogging on their own website. The problem is that there are still people that don't know how to search engine optimise their articles. This means that even some of the best articles are not gaining the amount of publicity on search engines that they should be getting. This article outlines the key areas to SEOing an article.
Where I Think BuySellAds Can Improve
I know I am going off on a tangent to PPC again but, I do feel that BuySellAds can never become as successful as PPC programs such as AdWords because they are banner advertising and, in general, banner advertising is not as efficient at being productive as PPC is. This is why I created this article. If BuySellAds can merge some of the best aspects of PPC with banner advertising, maybe they will find that they will become much more successful and have a larger pool of advertisers and publishers to work with.
Every now and then, it is always good to go back to basics in PPC. This is where this article can prove quite handy. By looking at the numerous vocabulary involved with PPC, you may find yourself diversifying your campaign so it approaches PPC from a different angle. For example, you may find that a negative campaign could work better for you than a normal one or vice versa.
Two Elements of a Successful PPC Campaign
If you find that your campaign is not converting as well as it should be, this article can prove useful to you. In this article, I highlight to key elements of a PPC campaign that can make it successful: the advert itself and the landing page. If you get these two elements of a PPC campaign right, it should be much harder for your campaign to fail.
There's the top five best articles I believe I created in July 2013 that will benefit you the most. I hope this has proved useful to you like it has for so many other people.