December 2o12 has been quite an interesting month. With it being the end of the world (which never happened) and, of course,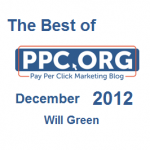 Christmas, it could be seen that it has been a goldmine for PPC advertisers to take advantage of web users before Christmas wanting to buy gifts. As well as this, PPC advertisers can still benefit after Christmas by taking advantage of the web users that are going online to look in the January sales. For this reason, December will be quite a crucial month for alot of advertisers. This is why advertisers base a fair proportion of their campaign around December: if you create a successful campaign in December, you will profit massively than compared to other months. Below are some of the best articles involving PPC to help you develop your campaign and prepare yourself better for December next year.
Analysing A Real PPC Campaign – Pepsi
Carrying on my 'sort of' series of analysing actual PPC campaigns, my next analysis focuses on the fizzy drinks market with Pepsi. Interestingly, the campaign which Pepsico adopts involve a competition making clear that they don't need to advertise their brand name because most of the world already knows it. Instead, they are attempting to promote a brand extension of Pepsi through the use of a competition.
Three Elementary Landing Page Optimisation Tips
If you have read most of my articles on landing pages, you will continually hear how I rate the landing page as the most important aspect of a PPC campaign. This is because it is where you either 'make or break' it with a conversion. For this reason, here are three fundamental landing page tips which you can implement into your landing page to help increase your conversions. What makes these tips great is that they are universal to most PPC campaigns.
Two Benefits Christmas Brings To PPC
Although Christmas has been and passed, it is important to learn upon potential mistakes you may have made with your campaign during December. As well as highlighting the effects of Christmas to the internet in general, this article makes clear that as an advertiser, you can use Christmas to your benefit enabling your campaign to make more money.
Sometimes, it is always good to take a step back in PPC and ask yourself exactly why you are using it. What made you choose PPC over other forms of advertising online such as banner and in-text advertising? The answer lies within this article. Another benefit this article holds is that you may find you are not using PPC to its full potential. For example [spoiler alert], one of the points I make is that PPC produces instant results. If you have not been using PPC to gain instant results, you may find that you could be using PPC more for that benefit.
This article is a must read for all advertisers especially new advertisers. Within this article, I present two common PPC problems advertisers face and solutions to these problems. Problems in PPC constantly occur. This article helps in preventing two common problems from occurring helping to make your campaign run that bit smoother.
There's the top five best articles I believe I created in December 2012 that will benefit you the most. I hope this has proved useful to you like it has for so many other people and a happy new year!