Another month has gone by which means another round up of the best articles created on PPC.org that advertisers, publishers and bloggers will find the most useful reads.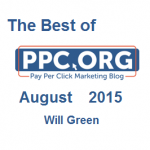 Last month, July, had a good selection of articles from the 'Analyse A PPC Campaign' series to ways to get your PPC traffic to engage more with your campaign as a whole. So, without further ado, here are the best articles on PPC.org that were published in August 2015.
An Update To Ezoic Adsense Partner
Ezoic is a new certified Adsense partner that provides a service to experiment with different themes, ad location, size, and so on to find ways to improve the amount bloggers can earn with their websites. I did do a review of Ezoic before a website I am related to was accepted. So, after being accepted, here is the update to Ezoic Adsense partner.
2 Ways To Improve A PPC Homepage
If you are using your homepage as your pay per click advertising campaign's landing page, you better have good reason for doing this other than being lazy! Truth is, for websites like Amazon, a homepage can work well as a landing page. For this reason, if you are part of the minority that uses your homepage as your landing page, here are two tips to help make it more optimised for PPC traffic.
Microsites, when used correctly in PPC, have the potential to really help a PPC campaign become successful with a high conversion rate. However, optimising a microsite can be difficult as they are not widely as used as other types of landing pages and they have been associated with the stereotype as 'too good to be true' products and services that seem like spam at the same time. Putting this aside, here are two tips you can use to improve a microsite.
For those that choose SEO or who are bloggers, making sure you are getting the most out of blogging can seem a difficult process. Are you doing the right things? If not, what should you be doing? From experience in blogging, here are three tips I have found to be essential to creating and maintaining successful traffic inducing websites.
2 Ways To Improve A Product/Service Page
For the majority of advertisers, this will be the most used form of landing page for a PPC campaign – this is because many campaigns generally advertise some sort of product or service. The problem with this type of landing page is that some advertisers feel by displaying information about the product/service is all what the landing page is about. However, it is also about keeping the web user on the page and allowing them to explore the aspects of the product/service he or she so wishes to look into first – you need to make sure the web user is in the driving shoes by what information they want to view.
There's the top five articles I believe I created in August 2015 that will benefit you the most. I hope this has proved useful to you like it has for so many other people.