It's been a few months since I did a 'Some Useful PPC Articles' with the last of the series being for March 2012. Again, I would like to consolidate that every article I create will not be 'perfect' seeing as its very rare to ever reach 'perfection'. Some of my articles will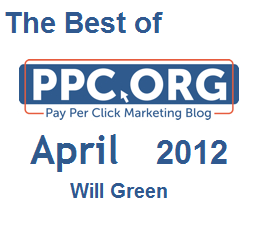 bring up points that will help advertisers out more than others. For example, some of my articles are more about tweaks in PPC than big changes. Taking this into consideration, here are some of the most useful PPC articles from March 2012 from myself. I hope that they will benefit you long into the future!
What are Adwords Highest Paying Keywords?
I'm surprised still that some advertisers still don't know the top of their market to the very low. This article talks about the most expensive keywords to bid for in PPC. At the end, I produce two valuable tips for advertisers warning them of the trends I noticed from the most expensive keywords. Gaining an idea of the most and least expensive keywords will help to widen your knowledge on the overall market. This is great when change occurs or when you want to change your keywords: you will know in a general context what keywords will be more expensive than others.
The majority of April's articles were in a small series I created about ways you can gain success in PPC. I found that all these articles will be especially helpful to all advertisers from the way that look at specific areas for maximum optimisation:
When I published this article, I knew I had made a great article because the point I raised in the article I don't think has been mentioned at all on the internet: it's unique. Although it is a bit of a long read, I would recommend you look at it as it provides a valid
argument to add social buttons to a landing page. The picture on the right hints towards why you should but please read the article for an in depth look into my logic of social buttons on a landing page.
Well, I wouldn't have thought to have made this article this long! I guess I got carried away. Anyway, there are the best I articles I believe I created in April 2012 that will benefit you the most. I hope this has proved useful to you like it has to so many people.