Small business owners may find it difficult to have the time to stay on top of all the websites the booming world of social media offers, but not taking the time to do those things can be incredibly costly. Social media sites are free, but time and strategy are required.
Most people looking for any type of business are searching online, so a web presence is critical to success. Social media is not merely a plug for business, but a way to connect with customers on a personal, interactive level. Every business does not have content that will work on every social media site, so it is important to consider which type of social media would be most beneficial. Consider what type of information customers are looking for from a business like yours. Does your company or brand have experiences or information that changes throughout the day that people would be happy to keep seeing in their newsfeed? This type of business would be a good fit for Twitter, where posts need to be picked up on or retweeted within an hour, after that it has less than 2% chance of being retweeted according to recent research by Sysomos. Tweets need to be interesting, personal, inspiring, or teach something. A tweet that says "Come check out our great business" will most likely get no response. A tweet with a witty quote that you connect back to your business is more appealing. Remember the point is to be social.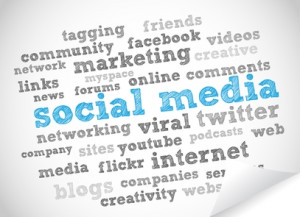 Because twitter requires so many posts, a business that has less to share may fit better on facebook. Facebook posts are considered to have a lifespan ranging from 18-22 hours depending on the study. Here is a good fit for a small business that has something to post that will hold up for the day. Post a one day sale, offer a check-in deal, or comment on something happening in your neighborhood that would appeal to customers. Many facebook users go to a company's page before visiting that location to check for sales, daily specials, etc.
Consider what type of unique information you have that will set you apart from others in your industry. A business using new techniques or technology that others are not familiar with would benefit from having videos (YouTube) and blog postings educating customers. Blatant product promotion and brand plugging does not work on social media because it does not offer the public any benefit, so no one will follow it, respond, etc. The point of social media is to get others interacting with the business or brand.
Any business that creates something with great visual content should be on pinterest with high quality pictures linking back to your website. Pinterest is an online pin board where users create boards of images that they like, and their friends can then repin these pins.
Social media posts can, and should, be repurposed. Small business owners do not have the time to think up new content every day. The picture that was posted on pinterest, video on YouTube, blog posting, etc. can later be turned into a facebook posting. Do not insult and alienate followers by trying to post the same type of message to every social media platform simultaneously, but the short lifespan of these posts does allow for reposting in the future. Take the time each week to plan postings and content for the week in order to achieve consistent growth and followers. Make sure every social media site has links back to the company website as well as location and contact information. While it has been stressed that social media postings do not work as intense self-promotion, make sure that there is always a call to action included. Lastly, notice which types of posts receive the most response and at what time of the day followers seem to be most active. Posts that create interaction are successful.
This guest post was written by Michelle Penick, who is a co-founder at ContentBLVD.com, a free platform for publishers to source fresh blog content from industry insiders. She's an experienced content marketer who helps bloggers to meet their publishing goals, promote their blogs, and increase their authority through guest blogging.