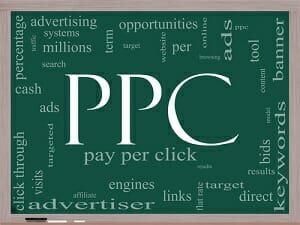 In the past, PPC experts have suggested that companies should run more of their pay per click ads through social media websites instead of traditional search engine networks. Due to the scale and structure of these social networks, sites such as Facebook and Twitter have become increasingly popular for both organic SEO and paid link activities. The concept behind social network-focused PPC campaigns is solid enough: the fast-growing nature of social media provides businesses with a seemingly endless number of followers and users that are found easily through popular keywords and specific interests. Unfortunately, some companies have encountered a lot of resistance in getting their social media efforts to be successful.
Of course I'm talking about General Motors' recent announcement that it would be ending its Facebook Ads and other network-based PPC campaigns. According to General Motors, its operations on the world's biggest social network have been ineffective in getting users to contribute to the company's numerous KPIs. The result is a pulled campaign that has cost Facebook to lost $10 million in revenue. That amount of money is a small drop in the bucket for both companies, but the implications of the advertising withdrawal are huge.
Could the Tide Turn for Facebook and its Advertising Initiatives?
Some businesses may look upon GM's decision to sever its marketing ties with Facebook as being an incentive to do the same. A company well-known for its constant TV ads and enormously expensive Super Bowl commercials (which it too intends to cut), General Motors choice to stop its social media PPC campaigns is quite the big deal. Although it is the first major company to announce plans to stop its Facebook ads, hat GM's move may be the catalyst that gets other notable businesses to pull the plug on the bulk of their own network PPC operations.
It certainly doesn't help that Facebook has never looked more vulnerable than it does now. After its IPO failed to get any traction on its Friday debut and the overall loss the company's stock has seen so far this week, Facebook is coming under a lot of scrutiny from many people. Combined with the latest incident with General Motors, there's going to be even more back-and-forth discussion now regarding the viability of Facebook Ads in the future.
Taking the Wait and See Approach
For the time being, it's recommended that companies stay the course with any PPC advertising efforts they may be considering, or are currently running, on Facebook. Although the past week has been a rather tumultuous time for Zuckerberg and company, these sort of developments will happen from time to time. As such, it's a smart move for business owners to remain calm and collected until things are more certain. For now, PPC managers on Facebook should abide by the following PPC tips and guidelines:
Research popular keywords before committing to a new campaign.
Use Facebook's analytic tools to track campaign performance from week to week.
Keep up the latest news from various SEO and tech-focused websites. If more companies begin to pull out of their Facebook marketing, consider putting a temporary halt to your own operations.
As always, keep active with your organic social media efforts. Staying relevant with potential followers can help sustain the strength of your PPC campaign.
Todd Bailey is Vice President of Marketing and Digital Strategy at WebiMax in Mount Laurel, NJ. WebiMax is an industry leading search engine optimization (SEO) firm with over 150 employees and 500+ clients worldwide. Find him on Twitter @WebiMax and @push_star