For anyone that uses any sort of mobile device from Apple, be it an iPod Touch, iPhone or iPad, you will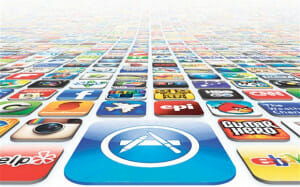 have, at some point, interacted with the App Store to search for and download apps to your device. Since the app store was first created, the way you could search for applications to download has pretty much been the same. You use the search bar and Apple displays the results of apps that best suit what you searched for.
The annoying thing for developers of apps, though, is that they may feel that although they have just added a new app to the App Store, the app is not getting near enough attention that it should be getting at the start of its product life cycle. Yes, you can market the app using marketing tools outside of the App Store. However, it usually is not that effective. Well, fear not my friend because Apple are going to introduce search adverts to the App Store following what Google have done with their Google Play Store.
What is Actually Happening?
The way we search for apps on the App Store involves using keywords that relate to the app. However, what Apple are planning to introduce is a way for apps to appear at the top of app search results in the App Store enabling sponsored applications to get more exposure and, hopefully, more downloads.
The App Store search adverts will support similar targeting methods that PPC contains, such as keywords, what device the web user is using, the audience and scheduling aswell.
What will this Mean for Advertisers?
For anyone that uses PPC and are not involved with the App Store, you shouldn't expect any difference for you since this change won't affect any areas you are involved in.
However, if you were previously promoting adverts on the App Store using other forms of online marketing, such as PPC advertising or social media marketing, you should be swayed to using Apple's new marketing tool. As good as it can be to promote an application in the App Store, you are never going to have any sort of advertising platform that will generate as many downloads as the new Apple marketing tool will. What is the simple reason for this? Because the advertising is embedded into the App Store itself.
The only downside at the moment, it seems, is that the targeting method Apple will offer advertisers to use to help target their app at appearing to the right target market seems, well, not very contextual at the moment. However, this is common for new forms of advertising platforms when they are first released. As the platform ages, we should expect to see other forms of targeting methods for the App Store sponsored results, such as geographical location and more.