While the majority of posts on this blog are focused on how to use pay per click marketing to grow your business and improve ad campaigns, we can't forget that mobile marketing is quickly becoming a large factor in the way we advertise to our audiences. The truth is mobile is growing faster than we can keep up with, which means new practices and lead generation models must be put in place to adapt with these changes.
PPC has been a great method for driving leads to landing pages and web sites, which then lead to the capture of a lead… in this scenario, specifically email. Since we are now talking about mobile we should focus on how you can start building a mobile list of potential customers and how you can make a profit from these lists through the use of affiliate and commission based marketing.
Here are some mind blowing mobile numbers that you should be aware of.
More than half of Americans now own smart phones. Over 2 billion world wide!
Mobile data usage doubled in 2012 and over 50% of mobile data is video.
Apple iOS, Android and Blackberry are the major players in the mobile space right now. 
The mCommerce Blueprint
RemarkaMobile, the leader in "mobile list-building" has released "The mCommerce Blueprint" a comprehensive video and report for online businesses and marketers to discover the new ways of mobile marketing and how to take advantage of the mobile craze while it's still in it's infancy. The course is loaded with a wealth of information on mobile marketing strategies coupled with the first-ever 100% affiliate commission program in the mobile marketing space.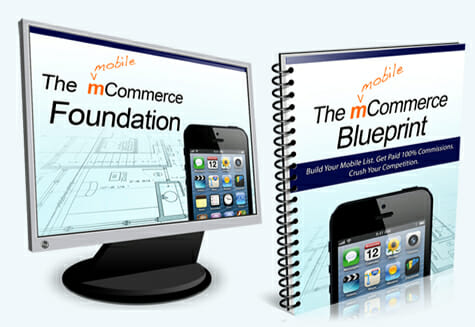 What many online marketers and businesses are neglecting is that while they are collecting email address of new leads and customers, they could also be collecting mobile data in the process. Right now there is a good chance that you have your mobile device in your pocket or on the desk right next to you. If someone sends you a message, even
if it's an ad, you are going to look at it right away!
There is no better example than that to show you the power of direct mobile marketing and how much more effective it can be over email marketing.
RemarkaMobile 100% Affiliate Program
With all of this talk about how important mobile marketing is right now, this leaves quite the opportunity for others to cash in on the showing others how to implement these strategies in their current businesses. RemarkaMobile feels the same way and has created their own affiliate program that is paying out 100% commissions to affiliates who refer new clients to their mobile list-building system they make.
The difference between the RemarkaMobile affiliate program and other mobile affiliate programs out there is that RemarkaMobile's program is exclusive to only paid members/affiliates of their service. While this may seem out of the ordinary to the average affiliate, it also brings less competition when promoting their sits.
"Imagine having your own mobile list-building system so that you can meaningfully connect with prospects where they are most, on their mobile devices", said Andrew Cass, Co-Founder of RemarkaMobile. "Now, imagine all of that at your fingertips plus, an affiliate program that pays 100% commissions on every sale you make, every month."
Another feature that makes RemarkaMobile's affiliate program attractive is that your affiliate commissions are on a recurring basis. This means when you refer a new customer you are getting paid month after month for that one lead, instead of just a one time commission.
"We created RemarkaMobile's 100% affiliate commission program because we were tired of seeing so many programs claim they pay 100% commissions when they really do not. It's somewhat disturbing", said Cass. "When the math was done, the majority of affiliate programs that claim to pay 100% commissions were actually only paying 50% to 70% commissions." Instead of misleading people, RemarkaMobile's 100% affiliate commission program pays 100% commissions on every front-end sale every month. This is true residual income.
Small business owners and entrepreneurs will appreciate the RemarkaMobile system's innovative mobile marketing strategies and sharp, consistent weekly content plans. It gives business owners the exposure they need while creating an image of authority and building brand trust. The 100% affiliate commission program makes sharing the good news about RemarkaMobile's mobile list-building system that much more rewarding.
To learn more about the Remarkamobile affiliate program and how to take advantage of the latest trends in the mobile marketing space, be sure to watch the short video below.