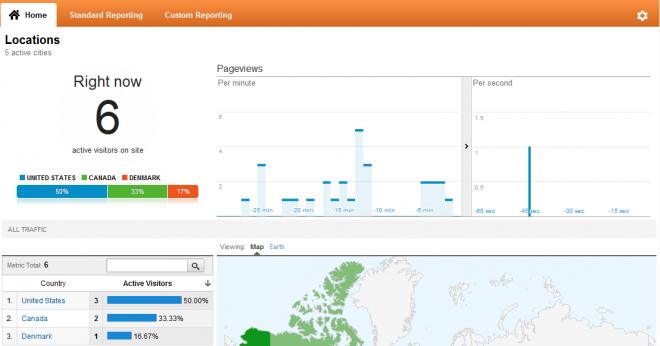 Below are the 4 different reports that Google now offers with their real time analytics tracking interface.  It's pretty sweet.  Now with the flip of a button you can view how many visitors are on your site at any given time during the day.
Real Time Locations
You can now see in real time where people are located in the world as they are viewing your site.  You can see if particular countries like certain pages and how certain locations bounce really quick.  Very interesting stuff.
Real Time Analytics Content
Now you can see people as they come to your site.  See the content they are looking at and when they are leaving.
Measuring Blog Traffic From Social Media
Now you can track how many people are coming to your site at any given time.  Say you want to promote a blog post over social media.  You post it to twenty different social media sites.  Real time reports will show when traffic stops to a specific post or page.  This will help you better tack your social statuses and social media influence.  It's really cool to be able to see people coming in and leaving your site at any given time.
Campaign Tracking
I think it's pretty bad ass that you can check on your campaigns in real time.  Now you can see how many people are on your site currently that are from your CPC campaigns.  This will allow you to drum down your account and see in real time who's on your site and where they are clicking.  This is taking AdWords to new level.
Sign Up For Real Time Analytics
There are several Admin account that have Real Time Analytics in their accounts, if you don't, you can sign up for free here.
John Rampton is a PPC Entrepreneur, Author, Founder at Due a finance company helping small business owners. Follow me on Twitter @johnrampton