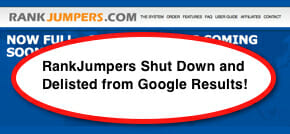 It's not a big surprise, but another link building blog network has fallen to the mighty hands of Google. Last month we first talked about how BuildMyRank was delisted, then to spread awareness of other networks we wrote an article on BuildMyRank alternatives. One of the sites listed in this post was Rank Jumpers, who has now fallen to Google and has had all of their sites blacklisted from the search results. With BuildMyRank being the most successful link building network out there, it isn't a surprise to see others continue to fall behind them.
Before getting de-listed, Rank Jumpers was trying to make improvements and changes to their link building network to avoid the possibilities of being blacklisted. These changes were that all content articles had to be written and ordered through Rank Jumpers' internal writing team and only the highest content was accepted. It seems again that this was too little, too late.
Here is the official mailing that went out to Rank Jumpers members last night.
Rank Jumpers is very disheartened to say that the recent change by Google to go after blog networks has now affected Rank Jumpers. We have had a large deindexing of blogs. After careful consideration we have decided to cease the blog network services by Rank Jumpers. In short we are shutting down the blog network. Google is very aggressive with their attempts to go after the networks and it would be worthless to try to replace blogs etc.

Our Process:
We will offer a full credit back to any customers that purchased our services in April. We will pro-rate the credit back for customers that purchased the monthly service in March. We will also credit back any credits that have not been used!

The deindexed sites will have all posts removed as soon as possible. All other posts will be removed shortly after!
As we continue to see more link building blog networks fall, we can only ask ourselves if any of these types of link building networks will survive, as there aren't many left. The future of link building is through legitimate incoming links and you can no longer build a successful business and rank at the top of search engines over night. Before wasting your time and money on unethical and worthless link building efforts, make sure you are on the right path for long term success.
For more best link building practices, be sure to visit our "Everything You Need to Know About Google Panda 3.3" post.