Artificial intelligence and machine learning is a powerful tool that is seeping its way into the advertising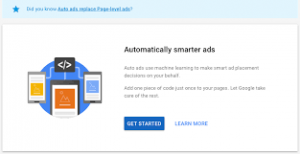 industry. Already, we have seen the liked of Ezoic take full advantage of this, implementing machine learning to improve the earnings publishers receive, as well as user experience on the website. For example, somebody visiting a website at 6pm in Britain will engage different to someone at the same time in Japan, where it is 3am. There are many factors that affect the RPM (revenue per thousand visitors) for a website, and it is down to the machine learning to trial the numerous different variables to find the 'sweet spot'.
This year has seen Google adopt machine learning right into AdSense itself – dubbed 'Auto Ads', here is what you need to know about the new approach Google has to publisher PPC adverts.
Google Auto Ads is a way for publishers to allow Google to use machine learning to automatically optimize the ads they have on their website.  You do not need any ad placeholder code on your website except one. Once down, Google Auto Ads will do the rest and place the adverts wherever it sees fit.
This has many benefits which include the following:
One piece of code for your website – when it comes to adding adverts to a website, it can slow the website down having tons of code on it. As well as this, testing different ad spots/types/etc. takes time adding/editing/removing code, which Auto Ads eradicates.
Auto-optimization – As mentioned before, Google Auto Ads will automatically optimize for every possible variable, providing the ultimate A/B testing and improving the performance of your adverts, increasing the RPM they receive.
Ease of use – Auto Ads is implemented with one piece of code, and can be conveniently turned on or off from within AdSense. This makes it extremely user friendly to work with as a publisher.
Adverts for AMP – I previously had problems with monetizing AMP pages. However, with Auto Ads, they monetize AMP just as effectively as any other page, which is something that is going to benefit many websites that gain lots of traffic organically from Google to AMP pages.
More than 3 adverts per page – AdSense has had a strict rule of only showing three adverts per page. However, this rule has been revoked for those using Auto Ads, potentially increasing the revenue produced through PPC for publishers significantly.
However, there are a few disadvantages to it too:
No control? Auto Ads will place adverts in areas that many publishers may not have thought they could have made money from. The problem stems that there is no control to stop Auto Ads from placing adverts in areas publishers simply don't want the adverts appearing in.
Spamming adverts? Auto Ads has a whole range of adverts that can work on a publishers website. Although user experience is taken into consideration, it is difficult to believe that it will not be negatively impacted by the whole range of adverts, as well as the quantity of adverts, Auto Ads uses.