Many online marketers get their start in pay per click marketing because it's one of the most basic and effective forms of advertising. The concept is simple, you pay to have your web sites or ad campaigns be seen for specific keywords and hopefully you convert your audience into leads. If it all works out properly then you will be profitable at the end of the day!
Sure, it sounds a lot easier than it is, but that's why we all must try different advertising methods and keep testing them til we can get them to work for us. The difference between successful and failing online marketers is not only the drive and dedication to succeed, but also having the right tools and knowledge. Many times this comes from online courses, trial and error or even through personal training.
Ivan Ong is a very successful online marketer who has been making money online for over six years now (roughly $3 million in earnings so far) and focuses not only on pay per click and PPV marketing, but many other advertising outlets as well.
Through his blog Ivan has been able to offer lots of great information, especially in his Q&A and Success Stories posts where people can ask anything they like and Ivan usually gives them a great answer and points them in the right direction. He also has a very nice listing of hundreds of different traffic sources for anyone who is looking to ramp up their advertising.
The real success behind Ivan Ong, his blog and his coaching program are the actual results that his students and blog readers are posting due to his sharing of information.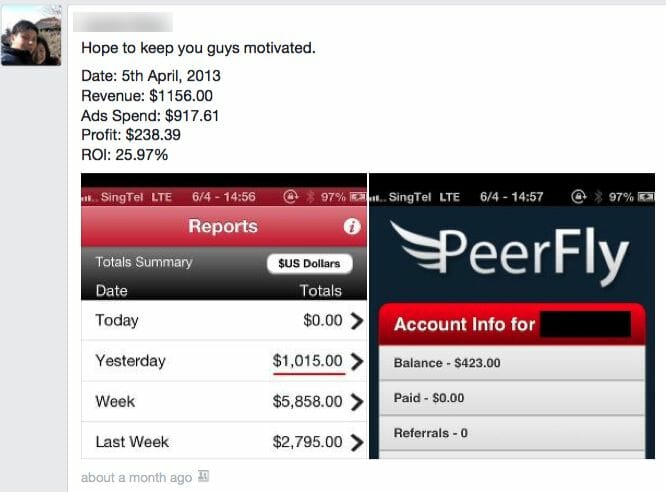 Ivan Ong CPA Super Affiliate Coaching 2013
When online marketers are successful at what they do, many of them will move onto the coaching field. This is exactly what Ivan Ong has done. When Ivan first started making money online he was using his blog as a way to communicate with others while also documenting his progress. The blog started to get more and more traffic and Ivan was continually asked how he did so well in the CPA niche and what made his campaigns work.
The best way to communicate with all of his readers and provide superior coaching would be to open his own affiliate coaching course called "CPA Profits Academy". Using his blog as a personal outreach and recruiting center, Ivan has quite a few success stories under his belt already in a short period of time.
Collectively his students have been able to earn over $380,000 and you can hear some of their stories in the short 10 minute video below.
In addition to Ivan's blog you will also find that he is very active on social networks as well. Ivan inspires his students to post monthly updates on their success and include their numbers for everyone to see. This isn't about gloating and inflating anyone's ego… instead it's an excellent way to inspire others and show what is possible with online marketing when you are taught the right method and put in the required work.
If you'd like to learn more about personal coaching through Ivan's CPA Profits Academy, you can join his mailing list here or send him a direct email at [email protected]. You can also follow Ivan on Facebook as a friend and participate in his Fan Pages and groups as well.