If you were to ask the average person on the street what "ppc" or "pay per click marketing" is, the majority of them would probably have no idea what you are talking about. However at the same time they are heavily influencing the way ppc marketing works, while also driving millions of dollars into the industry as well.
What is PPC Marketing?
Pay per click marketing is exactly what it sounds like, it's the concept of bidding on specific keywords or search phrases and paying for them to appear at the top of the search results. Every time someone performs a search and clicks on one of these ad placements, the search engine is making money and the advertiser is paying for the click.
However not all listings in the search engines are on a pay per click basis, nor do they all make money or Google or the respective search engine. Below you can take a look at the screenshot of a regular search for "online marketing" through Google and we can show you which listings are free and which are paid.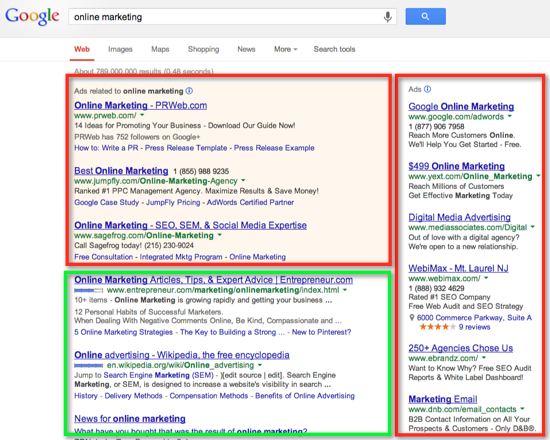 Once you take a look at the Google search results you will see all of the paid listings in RED and the organic (free) listings are in GREEN.
Bing.com is another search engines that relies on making money from pay per click marketing, but they are nowhere near as saturated on paid ad placements as Google.
Paid Search vs. Organic Search
As we already covered, "paid search" is the concept of getting your web site or ad campaigns listed at the top of the search results for any questions keywords or phrases. As an advertiser you can setup and manage your campaigns from within the ad center of your respective search engine. Depending on the keywords selected, the quality of your site and the competition, you will have to pay a specific amount every time a new click is sent to your site from the search engines.
An organic listing in the search engines is completely free and natural. These rankings are created by an algorithm that is used by the search engines based on the quality and popularity of the site and how well it answers or relates to the keyword or phrase the user is searching for.
The next post in this series will walk you through the process of how to start your own ppc advertising campaign with Google and Bing.