Everyone has their own set of favorite ad tools and places to learn how to make better ad campaigns online. Some services bill you on a monthly cycle and give you access to a few tools, while other services allow you to access a plethora of tools for all marketing concepts. Having access to a wide variety of tools is always a great option to have.
Amonies.com is a new member based site that offers marketing training, interaction with other users through their forum and access to over 15 different tools that they have had specifically designed for members of the site.
You can see a glimpse of these tools below.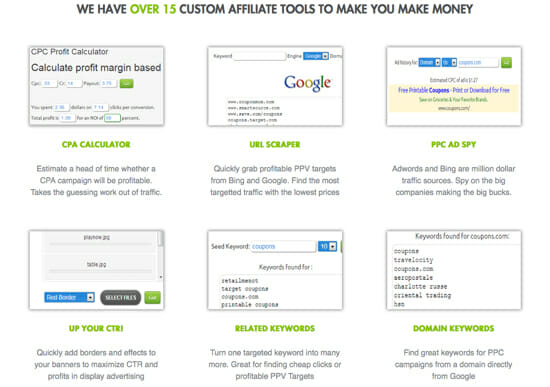 One of the PPC related tools offered through the site is the "PPC Ad Spy" which is used to view ads that other companies or affiliates have ran. Through the use of this tool you can get a better understanding of the ad copy that is being used to promote different web sites and an estimated cost on what they might be paying per click.
In the example below we have used "hostgator.com" to show ad history. When performing a search you have the option to search by url or keyword, and also to sort by country and search engine.
There are many other tools available through the site ranging from keyword and domain research to media buying and url scrapers.
Another example of a quick useful tool is the Domain Keywords tool that allows you to type a domain name and you will instantly get a report of keywords that are found on the site and likely used for SEO and marketing purposes.
Again, we used hostgator.com and you will see a string of multiple keywords that are relating to hosting and will give you ideas for long tail keywords and search phrases you can target in SEO and ad campaigns.
Amonies.com Summary
Even with amonies.com being a newer service with custom tools and a private forum, they already seem to have made some great contacts to initially launch their site. Ben from PlentyofFish is in the forums and waiting to connect with people and I'm sure the site will quickly grow in size and engagement as the world spreads around.
The premium site comes with a membership cost of $37 a month and includes full access to the 15+ custom tools, the learning center for affiliate training, private forums, weekly landing pages and scripts and a bunch of exclusive coupons and discounts which can easily cover the cost of your membership.