If you've ever advertised on Facebook Ads, you can truly appreciate the difference it makes to be able to setup ad campaigns around "interests" and other demographic targeting. There is another social networking type of site just like Facebook, but with even more amazing targeting capabilities, and that site is Plenty of Fish.
In short, Plenty of Fish is an online dating network, where millions of users are actively looking for their next big relationship. In the process, they are providing a lot of information about themselves and who they would like to meet. This is the type of information advertiser of Plenty of Fish can use to place highly targeted ads, right in the face of POF users.
The result… extremely high targeted ad campaigns, which can make you a lot of money. If you haven't been advertising on Plenty of Fish, now is the best time to get started.
The first step, is to sign up for a free account at https://ads.pof.com/.
When you create a new ad campaign, you will have two choices ad types to choose from… "Small-Ads" and "IAB Standard" ads. Small ads are like the ones you see on Facebook (image with text and description), and IAB Standard are your average 300×250 and 160×600 banner ads you see all over the place.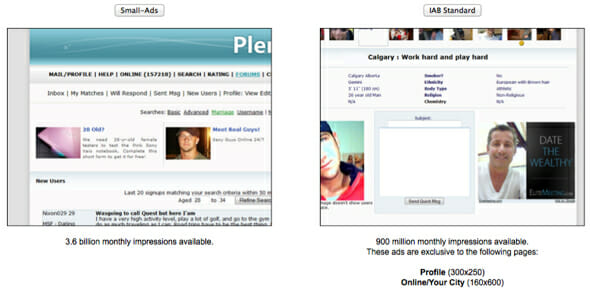 Building Your First POF Ad Campaigns
Now that you know what type of creatives you will be using, it's important for you to start working on the actual "meat" of your ad campaign, which is the full demographic targeting.
Your Basic Campaign Information Starts Here
Since this is a large section, we have broken the screenshots down into three sections.
Name Your Campaign, Budget and Dates: All pretty much self explanatory for anyone who is already advertising online.

Delivery: This section is important, as it will determine the amount of ads you serve per day and how often people will see them. The Frequency Cap is how many times you want a visitor to see your ads within a specific amount of time. And the Distribution will deliver your ads through out the day evenly, or fast as possible.
Who are You Going to Target?
Here is where you can really start to go crazy with your ad campaign, and really break down your advertising to any specific niche. In addition to all of the basic demographics such as age, location, gender and marital status, POF also allows you to target by body type, ethnicity, education level, religion, hair color, height, if they own pets and so much more. You won't find many of these targeting options in Facebook Ads.
Uploading and Creating Your Ad Copy
The ad copy is what people are going to see when they are browsing through Plenty of Fish. If you are going with "Small Ads" you will have to provide a small image, text headline and description. Going with IAB Standard will allow you to simply upload banners from your computer.
Once you are finished, you can click SUBMIT and your ad campaign will go into approval for the POF team to look it over, then it will eventually go live. Within the POF ads area, you will be able to see full campaign stats tracking, which also allows you to setup pixel tracking.
If you would like to walk through this whole process in more detail, please visit my full Creating Your First Plenty of Fish Ads Campaign post.
How to Create Winning Ad Campaigns on Plenty of Fish
While Plenty of Fish does offer some of the best targeting capabilities around, it's still up to you to create landing page and campaigns that work. You will need to test a ton of ad copies and pull out the low performers, then keep tweaking the winners. There is a lot of money to be made on Plenty of Fish, so make you aren't missing out on the action.