The next business I am going to analyse concerning their pay per click advertising campaign is Pets at home which sell food, treats, toys and more for owner's pets. Before this, I had a look at DKNY's PPC campaign and noticed a major flaw where the landing page had been targeted at just women when both genders could have reached the landing page. As I analyse Pets at home, I hope there are no calamities like the one I experienced with DKNY!
To view Pets at home's PPC text advert, I typed into Google search UK, 'buy dog food':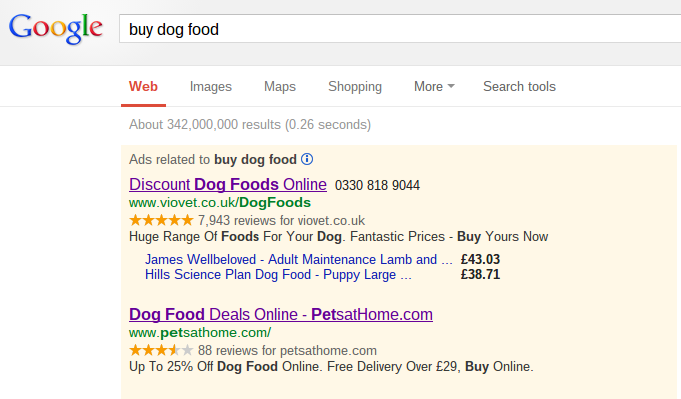 The first thing I notice is the fact that Pets at home are not the highest bidder for the keywords, 'buy dog food'. This will not help them – especially from the fact that if you compare the two text adverts next to each other, you are more likely to click on Viovet's advert seeing that the reviews is has are much higher on average and in quantity.
What is apparent, though, is that the Viovet advert uses a financial incentive much more by displaying prices (and the whole advert seems to be targeted towards price sensitive customers). Whereas, Pets at home have also looked for the price sensitive customers by including 'deals', 'Up to 25% off' and 'Free delivery..'. But, what they have also done is include their brand name, 'PetsatHome.com', in the title of their advert. This is because they are a recognised name that is seen at retail parks and on TV (and not just the internet like Viovet is). Therefore, they want to use this brand name to their full advantage as with the brand name comes trust and a safe reputation in the pet supply market.
After clicking on the advert, I came to the following landing page:
My first thought on this landing page is the price sensitive approach Pets at home have taken to PPC. The advert craves savings and so does the landing page. All the products have a price cut or some sort of special offer making it seem like, to the web user, a bargain. Pets at home have been quite lazy with their PPC landing page because it is actually just a sub-page within the main website where all the dog food products that are on special can be located.
The point that may be coming across is that when it comes to PPC, you need make a separate landing specifically designed for it. However, this is not always the case. Sometimes, the best landing pages can be found on the website you are trying to advertise. For example, Pets at home are no likely to be a business that get it wrong in PPC. Therefore, it is clear that they have found they gain the most conversions (sales) through displaying a sub-page from their real page. Creating a unique landing page apart from a main website will confuse the web user when it comes to landing on the main website from the landing page. For best results when you want the web user to browse you website, you need to make sure the landing page design is similar to that of the main website.