Today I got an email from a client that wanted to address to all the readers.  It has to do with PPC and reporting.  Client wanted to know how analytics and Adwords stats were off so I decided to put together a pay per click and analytics relationship building post.  In this post I will go over my clients concerns and how you as a PPC expert can help your client or boss understand better.
Here was my clients questions:
1.  So how are they measuring conversions? Remember Erica, Leslie, Katie and I go into the wizard to create and change estimates.
 A helpful number is how many folks come thru paid search and then go into the wizard.
2.  What are the top 3 paid keywords and top 3 non-paid keywords
To explain this to the readers I'd like to show you two different pictures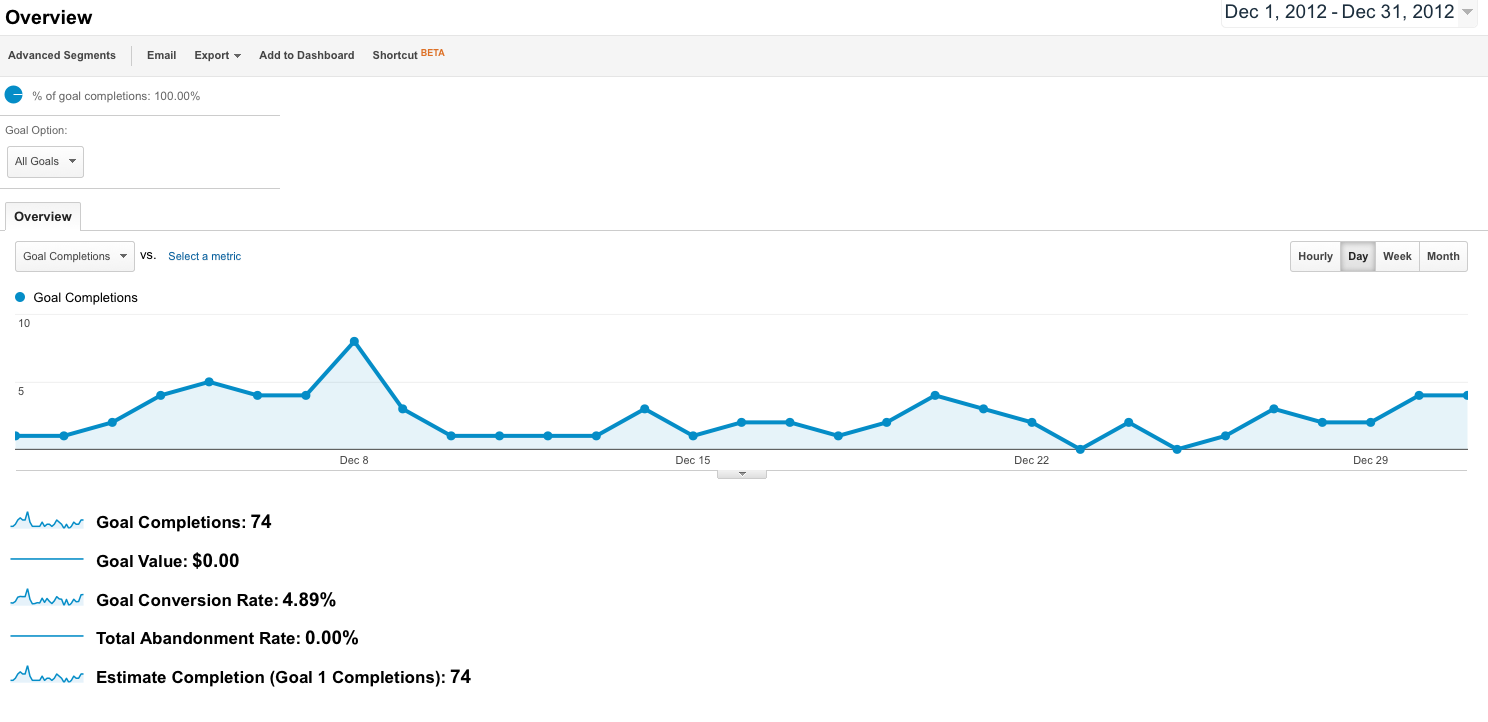 I show these two different pictures because of the different traffic that they produced.  Through Google Analytics I could prove that we had 18 conversions through Adwords and 74 total conversions on the site. Despite having an amazing landing page, we're only getting 18 conversions through Adwords.
Adwords Goal Completions: 18
Goal Conversion Rate: 1.19%
Estimate Print (Goal 2 Completions): 1
Contact – Franchise Opp. (Goal 3 Completions): 0
Contact Us – Gen. (Goal 4 Completions): 0
Wizard Quote – Success (Goal 5 Completions): 8   ( I would assume this is all your team entering in)
Save Button Click (Goal 6 Completions): 9
Total Site Goals:
Goal Completions: 7
Goal Conversion Rate: 4.89%
Estimate Completion (Goal 1 Completions): 74
When my client came to me they were just looking at my Adwords report along with a few other reports that I put up.  They weren't seeing the whole story.  Sometimes when we're reporting we only show part of the story.  This month I have learned a very valuable lesson.  I need to be showing the full story with everything.  I need to really marry my Adwords PPC and Analytics.  By doing this I will prove to my client that both the SEO and PPC work that I'm doing on their site is working.
One great way to avoid the confusion from Adwords, Organic SEO traffic and Employee traffic is to separate out the forms.  This will allow them to know exactly the difference between SEO and PPC in their book.  Not to mention, not when they are trying to figure out which leads are their leads and who's aren't!
John Rampton is a PPC Entrepreneur, Author, Founder at Due a finance company helping small business owners. Follow me on Twitter @johnrampton