Having read Will Green's series of articles on optimising landing pages, it's probably the case that I've used most of the techniques he outlines at some time or other. There are occasions for example when linking to the homepage is clearly the best solution (even though it may seem like the 'lazy' thing to do) whereas sometimes a nice targeted 'Product/Service' page is the obvious answer.
A problem I've encountered on many occasions is the feeling of going too 'broad' with your landing page contents and losing people because you have a cluttered range. Alternatively you link to a specific product page (or small category of products) and but it might not be quite what the customer is after and you lose a potential sale. Taking the example of an everyday item – 'office bins' – we have a search term that produces lots of results for waste paper and mesh bins for the office.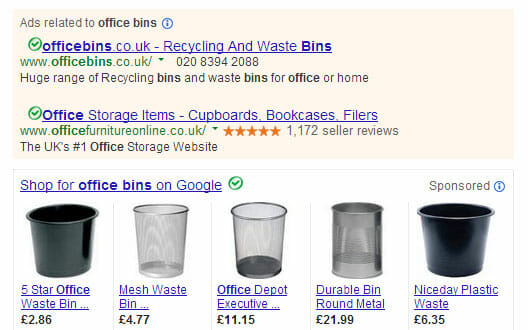 In most cases people find what they want but there will be proportion of people who were looking for recycling bins for their nice eco-friendly business and simply searched for 'office bins'. A quality set of colourful, office recycle bins could produce a sale many times more than for a few waste paper bins. By showing just the standard office paper bin range you will have missed out on a valuable sale. However, if you presented every type of bin that could be used in an office environment (e.g. bins for cardboard, plastic, batteries, ink cartridges etc plus kitchen and rest room bins, wheelie bin, litter bins, cigarette bins) you swamp people with too much information and they go elsewhere.
The solution I find works best is a kind of hybrid 'click through' and 'product page' idea. This obviously requires some work setting up a separate page outside of the main site navigation but you can also take advantage of this by using keywords in the URL and page title thereby boosting your Adwords 'quality score'.
You need to target the main search term with on-page links to individual products and then introduce some of the more related items as you work your way down the page. These should link to both related products and categories. There is a danger that you end up producing a long scrolling page but to avoid this, increase the links to less specific 'category' pages (as opposed to individual product pages) as you go down the page. Although you may lose a few people who won't venture beyond the fold, you often find that people are happy to scroll down (and click more) if they feel they are on the right tracks and are moments away from discovering exactly what they want.
There's a good example of this on a website selling floor cable protectors. The Workplace Depot have the obvious dilemma that they are not sure whether people searching for 'cable protectors' are looking for those used indoors or outdoors so they start off by showing a mix of both.
They have also realised that when people think about 'cable protectors' they could mean things like cable tidies, trays and cable snakes so as you scroll down the page you start seeing some of these other products appear. As you go down the page you also get related 'categories' (eg desk trunking, speed ramps). Employing the 80:20 rule, this suggests that for the 80%+ people looking for the indoor or outdoor product, they will find exactly what they want, plus some of those 20% who used a less precise search term may also find what they need.
The products that appear on this optimised landing page are clearly dispersed throughout different sections of the site but for the purposes of a PPC campaign this makes an attractive and more cost-effective landing page.
By combining a 'click through' and 'product' style page, it helps prevent the landing page from you PPC advert being either too broad or too narrow.