As you probably know already, the search advert is one of, if not the, most crucial element to pay per click advertising. In essence,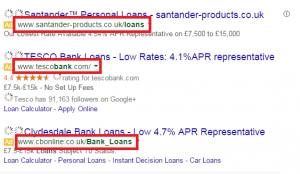 the whole of PPC is focused around the text advert. For this reason, it is vital for advertisers to be able to optimise the search advert in order to improve the performance of their campaign. How can improving a search advert improve a campaign? Here are some points:
Increase CTR – A campaign with a higher CTR is more efficient in what it does and gains a higher percentage of targeted traffic than before (which is what most advertisers want).
A higher CTR will help to improve the quality score of the campaign since it is measured with the CTR included. This means a higher CTR will improve quality score helping to rank your advert higher on Google search results. This means your campaign is effectively cheaper to run if you want to maintain the same position in Google search results.
When it comes to optimising a search advert, most people will focus on the title and description. This is wrong since no element of an advert should be neglected: the URL can have dramatic effects to the performance of an advert. Here are a few ways you can improve your advert through the URL.
Easy To Read URLs Win
The first optimisation step is to make sure your URL is extremely easy to read. 99.9% of landing pages will have URLs with lots of http coding after it (usually to help the website identify this traffic source is from PPC) which, overall, does not look pleasant at all. Therefore, the shorter you can keep your URL in PPC, the better. Not only does it make it easier for the web user to remember the URL, it also helps distract the web user's attention from looking at the URL and onto the title and description which will be where the click is ultimately made.
Make URL Your Homepage
If you are unsure what your URL should be, put it as your homepage. By doing this, if the web user decides not to click onto your advert, by seeing an easy-to-read URL, they will be able to remember it and potentially visit your homepage in the future directly instead of through PPC. This makes it clear that a homepage as a URL has the potential to gain targeted traffic to it direct for free from the web users who saw the URL in the search advert but did not click onto it at the time.
Don't Include Http://
'Http://' is a waste of characters in the URL section of a PPC search advert. Linking in with the first point, you need to keep the URL as short and sweet as possible – anything that may clutter it will seriously affect the performance of the whole campaign – not only will it be as effective at contributing to a high CTR, a cluttered URL is unprofessional looking too.