In the world of online marketing, many people are looking to outsource their seo and ppc marketing, while others are offering these outsources services themselves. No matter what side of the deal you are on, it's important to have a quality invoicing and payment tracking platform in place. Invoicera.com is one of the tops sources for billing software and invoicing management.
What Can Invoicera Do For You?
For anyone who has had to deal with invoicing, you know how much of a pain it can be to write up new invoices, make sure they are sent out accordingly and on time, then on top of everything else, you need to keep good records. Invoicera can do all of this for you and they have been making the process of invoicing much easier for thousands of people and companies online.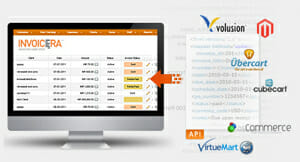 Here are just a few of the benefits you will receive from Invoicera.
Professional Looking Invoices/Estimates in a jiffy
Receive Payments through more than 20 Payment Gateways
Powerful Multi-Currency & Multi-Lingual features
Record and Categorize all your Expenses & Time-logs
If you currently have a web site or need an invoicing system to be setup with an existing shopping cart or payment system, Invoicera has features for that as well. For custom jobs, Invoicera can be hired to setup your current application with some of the top payment and checkout processing systems out there such as PayPal, OSCommerce, VirtueMart and many others. All customization is made based on the needs of your business.
Invoicera Pricing and Plans
It doesn't matter if you are a one person working from home and looking to better managing your invoicing, or if you are a Fortune 500 company with a ton of employees, Invoicera has the perfect pricing and plan packages for you. As you can see in the chart below, the smallest package is free and offered limited options, but even the Basic and Classic package offer a lot more, while still only costing a few dollars a month. There is a full 30 day money back guarantee on all accounts, along with no sign up fees, no contracts or commitments.
Take a Quick Tour of Invoicera
One of the best features of their sites is the free tour that they allow visitors to use to walk through the process of invoicing and how Invoicera makes the process much easier. From the simple tasks of managing your invoices through a dashboards, to viewing clients, staff and full reports, all the way through recurring payments… be sure to take a look at their tour and get a quick understanding of what Invoicera can do for your business.