Search Engine Optimisation (SEO) is a key element to every website on the internet. The rank of websites on search engines, namely Google, plays a significant role in the traffic generation to a website as well as the overall success of a website.
There are hundreds and hundreds of articles about how to improve a website's SEO, such as from small tips to large changes you should make to a website. However, if your website has fundamentally got problems, then it will not matter how well you improve the trivial SEO points to your website or 'polish your $100 car' – at the end of the day, it will still be a $100 car (hope you understand that analogy).
What Considerably Affects the SEO of Websites?
When Google ranks articles and websites, it is, of course, based on hundreds, if not thousands of variables. Such examples include:
The content itself
The website
Domain name
Social shares
Comments
Internal linking
External linking
Outbound and inbound links
These are just a few of the elements that affect SEO. However, an even larger factor is the bounce rate of your website from organic traffic sources. This is the percentage of web users that exit a website after only viewing one page from that website.
How does the bounce rate affect SEO? Well, here is a flow diagram which should explain things clearly: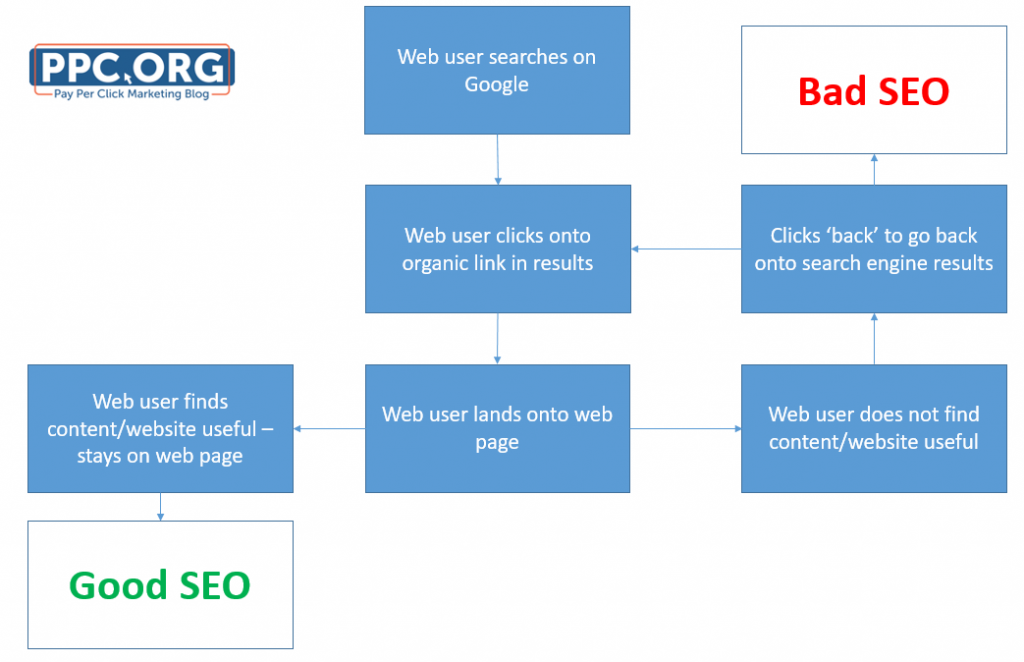 When a web user clicks onto an organic link from searching for something, Google needs to determine a way to find out if the web user found the page useful – if the web user found the web page useful, it makes clear to Google that the organic link was correctly located in organic search results or could be pushed higher up for the same search phrase that the web user searched for. On the other hand, if the web user does not find the web page useful, then Google would have evidence to rank the the web page lower since the result did not prove useful to the web user.
One way which is easy for Google to determine if an organic link was useful or not is through analysing the time on website and bounce rate of the organic link. If the web user spends a considerable amount of time on the web page and doesn't click back onto search results, then it is clear that the web user found the page useful – this will provide the page positive SEO. The opposite can be said if the web user clicks immediately back onto search engine results: the web page that has the bounce will get negative SEO.
From this, it is a bit of an iterative process as to if a website gains good SEO or bad. What more, the SEO of a website can change over time based on such an analysis. For this reason, make sure you make your content as high quality and useful as possible, which is a fundamental to good SEO!