The last PPC campaign I analysed in the 'Analyse A Real PPC Campaign' series was from Which?, who had both an effective search advert and landing page for the objective they wanted to achieve – to come across as a great source of information: enough to get web users interested in signing up to Which? to get access to even more useful information.
You can almost predict what are going to be the highest paying keywords in PPC such as 'bank loans', 'buy a car' and 'insurance'. With this in mind, here is a PPC campaign analysis of Nivea who have a campaign looking at anti ageing cream: a market that is ferocious with competition.
To view Nivea's PPC search advert, I had to type into Google search UK, 'anti ageing cream':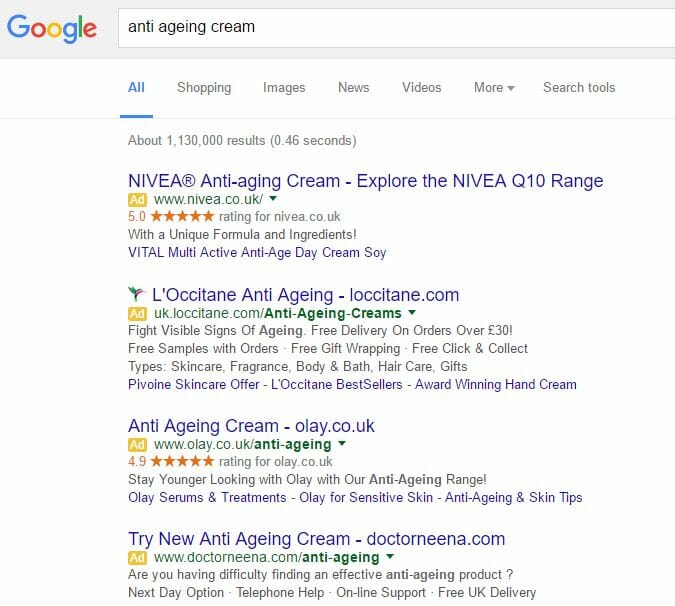 It is no surprise that the full amount of adverts for search results (being 4) is displayed here since this is a keyword search phrase that has the potential to make advertisers a lot of money. Millions of people want to look younger and once someone has bought a product and liked it, they will be very likely to buy it again and again and again and again… For this reason, the CPC will reflect the potential for repetitive buys too, which will only increase the competition and CPC for such a market in PPC.
Looking at the advert itself, it is pretty much spot on for the following reasons:
Making the brand name in capitals and follows by the copyright symbol brings attention to the advert which will help to increase the CTR it too.
Nivea are top position which will only increase the amount of clicks they get on the advert.
The ratings extension is a must for this market, considering the cream will be rated based on reviews others have of it. It is great, for this reason, that Nivea have the highest rating possible showing up.
After clicking on the above advert, I came to the following landing page:
The landing page is not going to get people to buy the product straight away considering that the web user does not know much about the features of the anti ageing cream to warrant a purchase. This makes this page a product/service page looking to promote the reasons to buy Nivea's cream.
Having a clean and, what seems like, pure image of a women without wrinkles will work wonders in getting people to aspire to look like her, if we presume she has used the cream.
There is technology in this cream, which will help Nivea explain why the cream warrants a high price tag (it is expensive because research has gone into making sure it works).
There is an arrow pointing down at the bottom central area of the page, indicating there is content below the fold of the content, which goes into detail about all of the features of Nivea's anti ageing cream.
On the whole, a very good landing page!