So I created an article a few weeks ago which looked into the change that Google have implemented to search engine results: instead of showing three paid adverts above organic results and adverts to the right hand side, they are scrapping the right hand side adverts and increasing the maximum amount of adverts to show above organic results to four. In the article, I outlined a few potential consequences due to this change as a PPC advertiser (although time will tell what will the actual consequences be). However, how has this made search engine results different from the perspective of web users and general traffic? Here are my opinions of the removal of the right hand side google search ads from the perspective of a web surfer.
To view the change Google have implemented, I used a highly competitive keyword phrase, 'bank loan':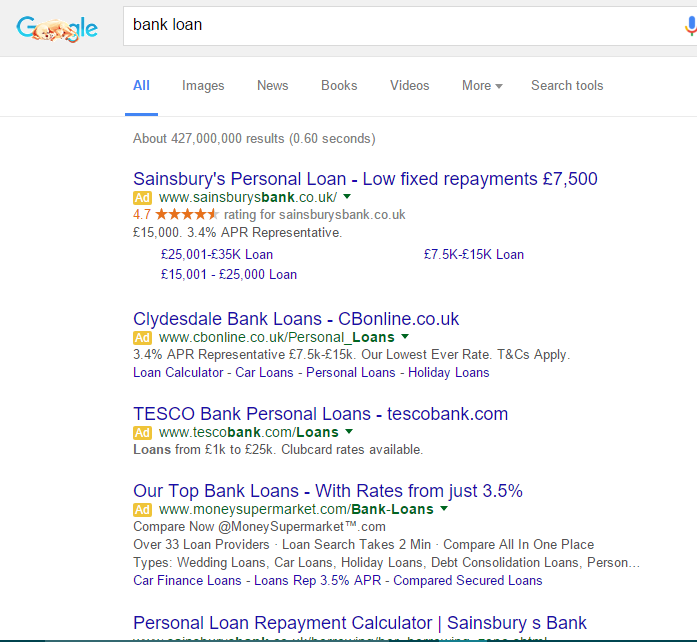 So, as a web user, there are positives and benefits to this change by Google:
Positive – The search results page looks a lot less cluttered since the space where the right hand ads would be is now is filled in blank white.
Negative – The main problem with adopting four adverts above organic search results is that the organic results get pushed further down the page: to the point that they are only just above the fold of the page. Fundamentally, I oppose this – organic results should be given more priority and should at least have one full result above the fold of the page. Otherwise, what motivation is there for bloggers and website owners to perform good SEO? This was one of the problems I highlighted that websites might see a decrease in organic traffic due to adverts above organic results getting more exposure for highly competitive keyword search phrases.
Positive – In general, PPC is great for everyone. Advertisers get to promote their websites to contextual traffic, web users get adverts displaying things they would be generally interested in and more. Therefore, although some people will not be happy with more adverts displaying above organic results, paid traffic generally are useful to web users so they won't mind as much.
Negative – The problem with preventing organic results form appearing above the fold depends on what ad extensions the PPC adverts use. If every advert decides to use some sort of ad extension, the area of space will take up will increase, pushing organic search results further down the page potentially below the fold of the page.
Ultimately, I think the change by Google is a step in the right direction. However, it is not perfect, yet. For example, I feel that Google need to limit the total amount of space adverts are allowed above organic results so that it does not compromise organic results – otherwise, it will always feel as if organic search results will always have second priority to paid adverts – Google might be adopting this strategy because, at the end of the day, it is PPC advertising that is making them the money.